Katie Holmes' Broadway Run Cut Short, Dead Accounts to Close Early
Teresa Rebeck's comedy will have its final performance Jan. 6, more than a month ahead of schedule.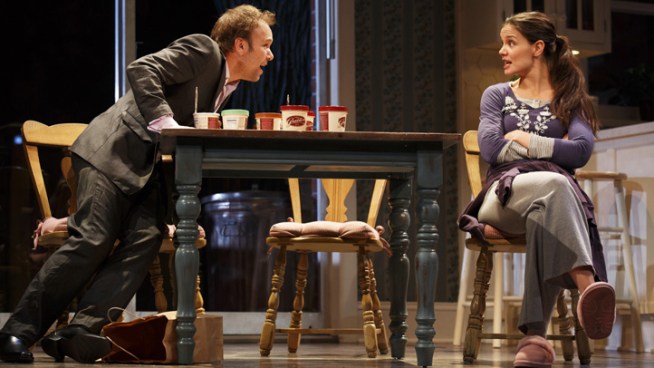 AP
This undated file photo provided by Boneau/Bryan-Brown shows Nobert Leo Butz as Jack, left, and Katie Holmes as Lorna, in a scene from "Dead Accounts."
Katie Holmes' latest Broadway run isn't going the distance.
"Dead Accounts," which received mixed reviews when it premiered last month, will close Jan. 6, seven weeks ahead of schedule.
"I am extremely proud of this production and the cast," producer Jeffrey Finn said in a statement obtained by E! News. "Theresa Rebeck and Jack O'Brien have created an inspiring and hilarious new play and we are all sad to see Dead Accounts end on Broadway. I look forward to working with this remarkably talented cast and creative team again very soon."
Katie Holmes jokes with David Letterman about forgetting her lines onstage
"Dead Accounts, which starred Holmes as an Ohio woman whose secret-harboring brother returns to the family homestead after a long time away, will close after 27 preview performances and 44 regular performances at the Music Box Theatre.
Its originally scheduled end date was Feb. 24.
Rebeck's dark comedy isn't the first high-profile play with a strong pedigree to fall prey to tough economic times in New York this month--David Mamet's The Anarchist, starring Broadway legend Patti LuPone and Debra Winger, closed Dec. 16 after only 23 previews and 17 regular shows.
Holmes had previously acted on the Great White Way in a revival of Arthur Miller's "All My Sons" in 2008.