"G.I. Joe" Opens With Heroic $22.3M Friday
Saturday, Aug 8, 2009 | Updated 2:49 PM PDT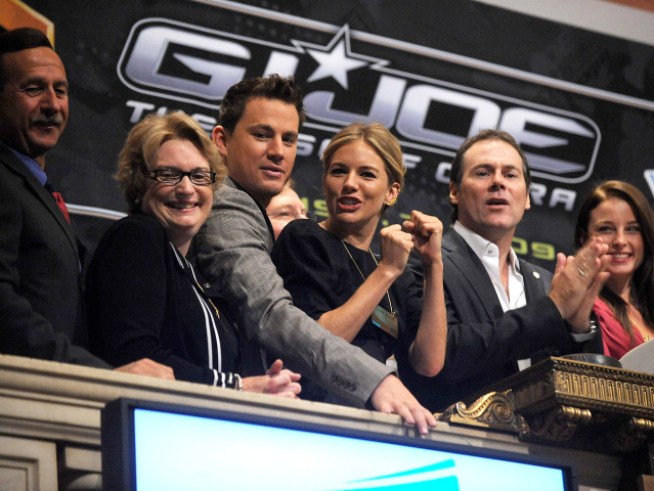 Cast members Of "G.I. Joe: The Rise Of Cobra," including Channing Tatum, Sienna Miller and Rachel Nichols, ring the opening bell at the New York Stock Exchange on August 4.
"G.I. Joe: The Rise Of Cobra" entered theaters to a hero's welcome on Friday.
According to studio estimates, the Paramount film earned $22.3 million on Friday and is poised to set a record for August – traditionally the summer's slowest moviegoing month – as the third biggest August opener of all time should it reach an expected $60.3 million gross for the weekend.
VIEW THE PHOTOS: Sienna Miller
The film did not screen in advance for critics, who have been less supportive than audiences thus far – the film currently holds a 38 percent rating on review aggregator Rotten Tomatoes after earning early buzz from geek sites such as Ain't It Cool News.
The movie is the first big screen adaptation of the multimedia "G.I. Joe" franchise, which began with action figures and later transitioned into comics and animated shows.
Related Content from AccessHollywood.com:
VIEW THE PHOTOS: 'G.I. Joe' Scenes & Stars
PLAY IT NOW: All Access: 'G.I. Joe: The Rise Of Cobra,' LA Premiere
PLAY IT NOW: Sienna Miller & Rachel Nichols Talk 'G.I. Joe: The Rise Of Cobra'
MORE ACCESS ON THESE TOPICS: G.I. Joe - Movies - Box Office - Geek Chic - Celebrities