Wednesday, Dec 23, 2009 | Updated 11:15 AM PDT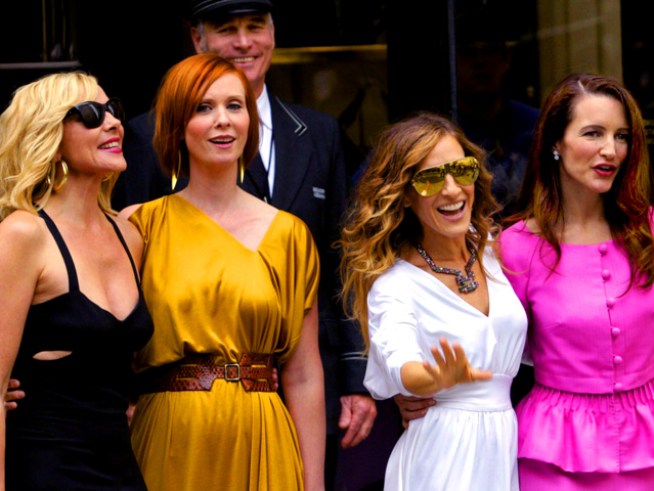 FilmMagic
NEW YORK - SEPTEMBER 08: Kim Cattrall, Cynthia Nixon, Sarah Jessica Parker and Kristin Davis are seen filming on location for "Sex And The City 2" on the streets of Manhattan on September 8, 2009 in New York City. (Photo by Marcel Thomas/FilmMagic) *** Local Caption *** Kim Cattrall;Cynthia Nixon;Sarah Jessica Parker;Kristin Davis
Are "Sex and The City" fans ready to "Carrie" on?
The fab four fashionistas are back in the first trailer for "Sex and The City 2."
The trailer transports the audience back into the lives of Carrie, Samantha, Miranda, and Charlotte two years after the first "Sex" movie.
The plot of the highly anticipated sequel remains mostly a mystery in the first look, but Carrie is seen in the closet of her old apartment, the wedding of an unidentified couple is featured and the foursome go on a lavish vacation to Morocco.
"Sometimes you just have to get away with the girls," Carrie quips.
Check out the "Sex and The City 2" trailer, HERE!
Related Content from AccessHollywood.com:
VIEW THE PHOTOS: Scenes From Sex And The City: The Movie
PLAY IT NOW: Trailer: 'Sex And The City 2'
PLAY IT NOW: Kim Cattrall: 'Sex And The City 2' Is Like 'Working For The CIA'
MORE ACCESS ON THESE TOPICS: Sex And The City - TV - Trailers - Movies