A six-month investigation found nearly 70,000 guns were lost or stolen in California over the last half-decade and many of those same guns were later used to commit other crimes. That's about 34 guns every day that are stolen from legal gun owners. Some were later used to kill innocent people across the state.
People like Olga Dinelli, 84, who was tied up and shot once in the head in her Sonoma County home last year. Police seized multiple stolen guns from her suspected killers.
And just one day before Dinelli was killed, 13-year-old Rashawn Harris was murdered in his driveway with a gun stolen from Stockton mayor Anthony Silva's home.
Gun theft isn't as prevalent in the Bay Area as it is in other parts of California, but stolen guns have played a central role in some of the region's most high-profile murders. From Kate Steinle, killed with a gun stolen from a Federal law enforcement agent on San Francicsco's Pier 14, to Steve Carter, the tantra instructor killed on a Marin County hiking trail by three transients with a gun grabbed from a parked car in San Francisco, stolen guns have left deep and personal scars.
"It was just devastating," said Lokita Carter, Steve Carter's widow. She was in the middle of a battle of cancer when she learned of her husband's death. "Having cancer is one thing. Having rare, invasive cancer is another thing. Having police standing outside at 3 in the morning saying, 'We have some unfortunate news for you, your husband was shot dead a few miles away,' was a bad nightmare."
NBC Bay Area obtained a California Department of Justice database containing the unique serial number of every gun reported lost or stolen in California between 2010 and late 2015 – about 70,000 guns in total.
In an unprecedented six-month joint investigation into the impact of stolen guns in California, NBC stations across the state teamed together to request crime records from 72 different law enforcement agencies where a gun was recovered. The team then cross-referenced serial numbers contained in the database with the serial numbers of more than 66,000 guns seized by police in connection to crimes dating back to 2010.
Thousands of stolen guns, thousands of crimes
The analysis found 4,346 matches of unique gun serial numbers. Using those serial number matches, the team narrowed the data down to 2,655 lost or stolen guns that were later seized in connection to crimes including murder, rape and robbery.
"Whenever I see a stolen gun, I see a future robbery, I see a future homicide, I see a future assault," said Graham Barlowe, the Resident Agent in Charge at the Sacramento Field Office of the Federal Bureau of Alcohol, Tobacco, Firearms and Explosives. "People don't steal guns for their collection. They steal guns to use those guns."
That number – 2,655 – is just a fraction of the total number of stolen guns connected to crimes over the past six years in California.
The gun-trace data compiled during NBC's investigation came from law enforcement agencies across the state, from San Diego to Sacramento. But some major law enforcement agencies such as the Los Angeles Police Department, Los Angeles Sheriff's Department, Oakland Police Department and San Francisco Police Department declined to provide records, leaving significant holes in the data.
Barlowe agrees that the numbers on record are low.
"I think there's even more," Barlowe said. "Based on the totality of crimes out there and very often we find that people who own firearms are not aware of the serial numbers. So when they report it stolen, they do make a report, but there's not an actual serialized firearm to match it up with when you then recover that gun in a crime."
Carter wants to see gun owners held responsible if they carelessly store a gun that's later stolen and used in a crime.
"It shocked me how prevalent the loss and theft of guns really is, and that's why I'm on the phone with you right now," Carter said from Denmark where she's recovering from cancer and trying to come to terms with the loss of her husband. "It shocked me to learn how many guns are stolen, lost and used in crimes. Who is responsible for those guns?"
Stolen guns leave their mark on the Bay Area
The Bay Area isn't a hot spot for gun theft, although more than 10,000 guns were reported lost or stolen across the nine Bay Area counties between 2010 and late 2015. In comparison, the Los Angeles area and some Central Valley communities have far more stolen guns. For example, more than 4,600 guns were reported lost or stolen to the Los Angeles County Sheriff's Department alone.
But just outside the Bay area, stolen guns have helped fuel an epidemic of violence in Stockton.
According to police data compiled by the NBC stations, stolen guns have been seized in connection to more than 400 crimes in Stockton since 2010, including at least 12 homicides.
More than 1,350 guns were reported lost or stolen in Stockton over the same time period, according to California Department of Justice data.
The San Jose Police Department took 1,452 lost or stolen gun reports over the same time period, the most of any Bay Area law enforcement agency. Since 2012, data from the San Jose Police Department shows at least 85 stolen guns were seized in connection to crimes in the city, including two homicides, five shootings and a rape.
The Oakland Police Department was second, taking nearly 1,000 stolen or lost gun reports. San Francisco police only took 412 reports over the same time period, ranking the department 31st in the state.
Yet stolen guns have left a dark, indelible mark on the Bay Area.
In 2015 alone, five high profile homicides involving stolen guns made headlines across the region. They include:
- Olga Dinelli, 84, killed on Feb. 26 – Dinelli was tied up and shot in her Penngrove home by two fugitives wanted for the recent theft of firearms out of a Marin County home.
- Kate Steinle, 32, killed on Jul. 1 – Steinle, a Pleasanton resident, was shot and killed while walking with her father along San Francisco's Pier 14. The gun that killed Steinle was stolen from a Bureau of Land Management ranger's vehicle while parked in San Francisco.
- Antonio Ramos, 27, killed on Sept. 27 – Ramos was shot and killed while working on a mural for peace in Oakland. Police say Ramos was shot with a gun stolen from the parked vehicle of an U.S. Immigration and Customs Enforcement Officer.
- Audrey Carey, 23, killed on Oct. 3 – Carey, a Canadian tourist visiting San Francisco, was found dead in Golden Gate Park with a gunshot wound to the back of the head. The shooting coincided with the city's Hardly Strictly Bluegrass Festival where thousands of visitors flock to the park
- Steve Carter, 67, killed on Oct. 5 – The tantra yoga instructor was gunned down at random while walking his dog on a hiking trail in the Fairfax area of Marin County. The same drifters accused of killing Audrey Carey are accused of killing Carter. Police say the same stolen gun was used in both murders. Lokita Carter keeps a blog where she writes about Steve and her fight with cancer and has a GoFundMe page to help with the financial burden of her cancer treatments and her husband's death.
Senseless crimes
Larry Dinelli, 74, was living with his older sister Olga when she was killed. He called her death senseless.
"I'm sure she didn't resist them, so it was a senseless act of violence that just doesn't make any sense," Dinelli said. "It just happened for no reason."
Dinelli described his sister as the matriarch of the family – the glue that kept them all together. He said her death left a void in the family.
"She was the nicest lady you would ever want to meet," Dinelli said. "Didn't have an enemy in the world. [She] was gracious and kind to everybody."
Police say the suspects in her murder, Victor Silva, 27, and Stephanie Lejean Hill, 37, traded a stolen gun for a rental car and fled to Southern California after shooting Dinelli and ransacking her home. Hill was later shot and killed by police in Arizona when she brandished a gun after a high-speed chase and Silva was captured during the same incident.
While criminals need to accept the lion's share of blame, Stockton Police chief Eric Jones said legal gun owners must do a better job of securing their firearms.
"That's a serious concern for me," Jones said. "Because what that does is, if there's a burglary or some other theft of that gun, there's a high likelihood of it being used in a crime and further endangering our community."
Thirteen-year-old Rashawn Harris was one of those members of the Stockton community.
Rashawn was saying goodbye to his dad in the driveway of their Stockton home just before he was shot down with a stolen .40 caliber Beretta pistol that belonged to Stockton mayor Anthony Silva.
Stolen Guns Help Fuel Crime in Stockton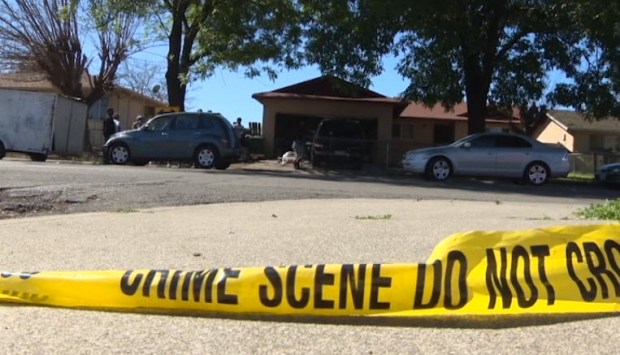 Silva, who did not report the gun missing until nearly a month after Rashawn's death, said he wasn't aware the gun had been stolen because he wasn't living in his home at the time.
"It's unfortunate," Silva said. "I mean I've never heard anything like that happen before, it's just unbelievable. And that's the worst thing any person can think of if someone breaks into their house, steals a weapon, and uses it on somebody else."
Police say the gun was also involved in a drive-by shooting in Stockton the month before, but nobody was hurt in that incident.
"It was just shocking that he's the mayor," said Keith Spivey, Rashawn's cousin. "And he doesn't know the repercussions or the steps you take when you lose your gun. So that's where our anger with the mayor comes in."
Check back Sunday on nbcbayarea.com and click on the Investigative Unit tab for more on stolen guns. We'll have a big picture look at data from across the state, including maps and other interactive features to explore.
Published at 11:00 PM PDT on Aug 5, 2016 | Updated at 1:20 AM PDT on Aug 6, 2016