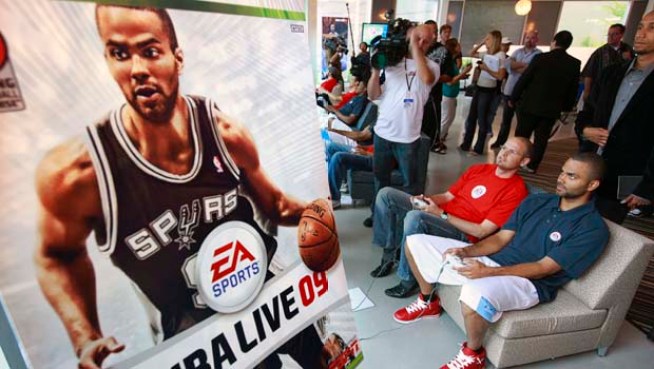 Getty Images
July 29, 2008: In this photo provided by Electronic Arts, Tony Parker (right) of the San Antonio Spurs plays a game at the Electronic Arts studios in Burnaby, British Columbia, Canada. Parker will be the cover athlete and spokesman for NBA LIVE 09, a video game produced by Electronic Arts.
Videogame giant Electronic Arts Inc. -- which has locations across California, including Los Angeles -- announced this week it will lay off 11 percent of its workforce (1,100 jobs) and close 12 facilities.
"Our holiday quarter came in below our expectations and we have significantly reduced our financial outlook for fiscal 2009, a clear disappointment," said John Riccitiello, Chief Executive Officer.
Chief Financial Officer Eric Brown said that the company expects $500 million of operating expense reductions in fiscal 2010.
The company also said it plans to narrow its product portfolio and cut other variable costs.
EA News Release: EA Reports Third Quarter Fiscal Year 2009 Results