Report Tells San Francisco to Start Its Turbines
Windbags preach visions of San Francisco's green-power future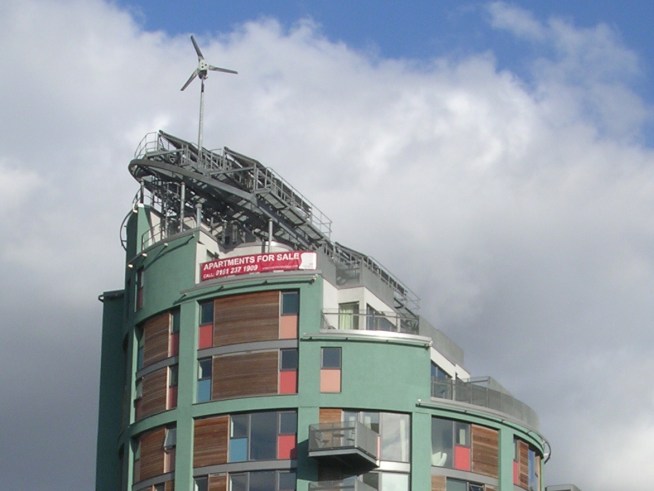 Terry Wha
This sad example of an urbine turbine in Manchester does not exactly recommend itself to San Francisco's aesthetes.
A San Francisco sky festooned with wind turbines in the latest green-energy gambit from City Hall.
A report on recommendations from a report commissioned by the urban wind power task force commissioned by San Francisco Mayor Gavin Newsom and State Assemblyman Tom Ammaino has Newsom and Ammiano spinning the latest renewable energy idea.
San Francisco sits in a meteorological sweet spot for wind energy. It's also a good place to try tidal energy, which Newsom previously championed, but for which his interest has apparently ebbed.
"Now if we could just harness the hot air that comes out of City Hall and the Capitol, we'll have an answer to global warming," Ammiano joked to the San Francisco Chronicle.
Meanwhile, the wonkier set was debating the feasibility of demanding that proposals for clean energy generation projects that would be competitive with Pacific Gas and Electric prices live up to carbon emission goals.
San Francisco has promised to be carbon-neutral by 2030, but critics of the requirement that goal be met wonder if any business will actually bother to apply.
Granted, private efforts at wind installations suggest by the reportby building and property owners will probably go even less smoothly.
You might be interested in putting a wind turbine on your building. But good luck convincing your neighbor who had the chickens in the yard over put down over noise complaints and has area ruined cell reception because with his doctor-endorsed hypersensitivity to electromagnetic frequencies.
Photo by Terry Wha.
Jackson West still just just build nuke plants in Nevada and everybody wins. Except Nevada. And potentially everyone downwind.