1906 Tour of a Devastated San Francisco
Video footage takes a ride in downtown San Francisco days after the Great Quake.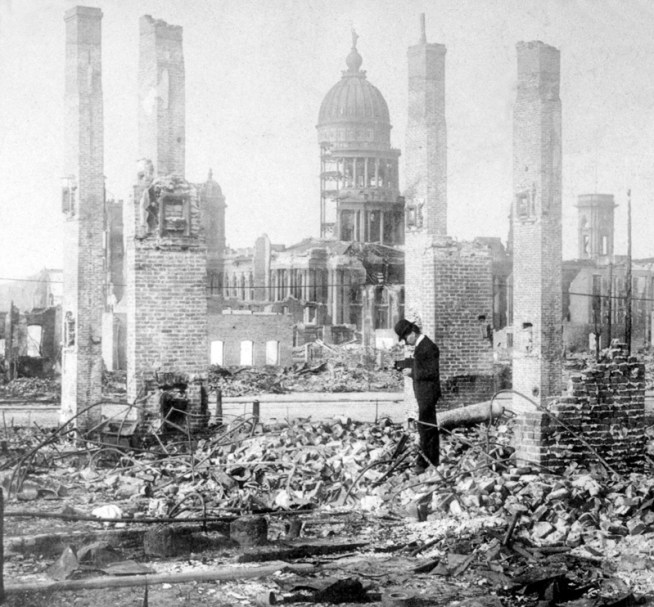 Getty Images
SAN FRANCISCO - MARCH 25: (Left Photo) A man photographs the ruins of a building block in front of the remains of City Hall near Market and Seventh Streets after the Great Earthquake in San Francisco, California. The city hall which took 27 years to build at an estimated cost of $6 million, crumbled in less than 30 seconds during the quake. (Photo by Hulton Archive/Getty Images) (Right Photo) A view of the new San Francisco City Hall from Market Street near Seventh Street March 25, 2006 in San Francisco. The current city hall was designed by Arthur Brown of the firm Bakewell and was completed in December of 1915 a built a block away from where its predecessor stood. Brown's design references the dome of the Church of Les Invalides in Paris. During the 1989 quake, the dome twisted on its steel frame, moving two inches and the walls and concrete floor slabs suffer cracks. The building undewent a full restoration and reopened in 1999. April 18 will mark the 100th anniversary of the 1906 earthquake in San Francisco. (Photo by Justin Sullivan/Getty Images)
The Great San Francisco Earthquake of 1906 has never looked so good or so devastating.
A new, 17 minute video shows the still-smoking ruins of the downtown area, a tent city and food lines in what may be Chinatown.
The video is a well-edited compilation of the few existing films of the disaster put together by a New York video collective called Red Channels.
Scratched, smudged and silent, the films show a city that was all but leveled by the 7.9 quake.
Crews pull down smoldering ruins, horse-drawn wagons remove debris, soldiers pose near a tent city that housed thousands of people after the quake.
While the moving pictures of the rubble are fascinating it's the people that make the video special.
Men in business suits, bow ties and bowler hats escort women in elaborate Victorian dresses down rubble-strewn streets.
Their city is all but gone but they are already moving on.