49ers Cut Heitman, Nedney
Friday, Jul 29, 2011 | Updated 1:15 PM PDT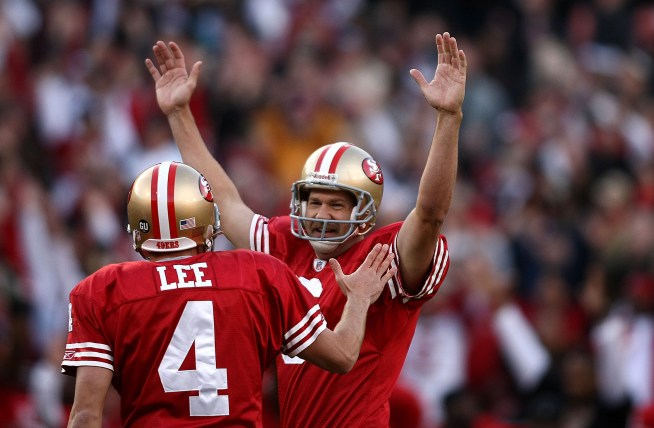 Getty Images
Kicker Joe Nedney of the San Francisco 49ers celebrates with Andy Lee after kicking the game-winning fieid goal as time expired to defeat the Washington Redskins 27-24 at Candlestick Park on Dec. 28, 2008. He is expected to announce his retirement Friday.
The San Francisco 49ers have parted ways with veteran centre Eric Heitmann and kicker Joe Nedney after they failed physicals.
The team made the announcement Friday morning ahead of its first practice under new coach Jim Harbaugh scheduled for Friday afternoon.
The release just adds to the shaky start to Harbaugh's tenure as the leader of the 49ers.
The 31-year-old Heitmann was placed on season-ending injured reserve last November in his ninth NFL season because of a neck injury that wasn't healing as quickly as the Niners had hoped.
Nedney will be replaced by five-time Pro Bowl kicker David Akers(notes), who agreed to a deal Thursday.