49ers Owner Jed York: "I'm Disappointed Some Fans Did the Wave"
Monday, Oct 14, 2013 | Updated 11:45 AM PDT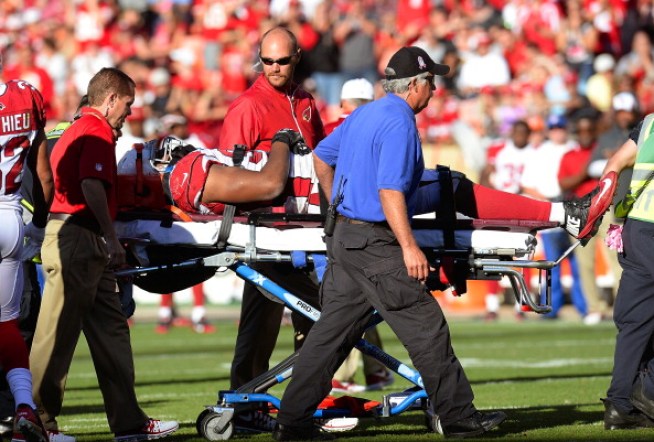 Getty Images
SAN FRANCISCO, CA - OCTOBER 13: Calais Campbell #93 of the Arizona Cardinals is carried off the field on a stretcher after he was injured during the fourth quarter against the San Francisco 49ers at Candlestick Park on October 13, 2013 in San Francisco, California. The 49ers won the game 32-20. (Photo by Thearon W. Henderson/Getty Images)
49ers owner Jed York was not pleased with what some fans did during today's game at Candlestick Park.
Arizona Cardinals defensive end Calais Campbell was injured, and as he was being treated and prior to him being carried off the field, some fans did the wave.
Some players on the field were seen on the Fox telecast trying to get the crowd to stop.
As for Campbell, he gave a thumb's up as medical personnel carted him off the field on a stretcher.
According to Matt Barrows of the Sacramento Bee, Campbell is said to be able to move his extremities, though he has experienced some tingling and numbness, per an announcement made in the 49ers' press box.
York typed up this tweet Sunday evening:
The 49ers beat the Cardinals 32-20.