America's Cup Tickets Top $26,000
There's no party like a $26,000 four-day yachting party.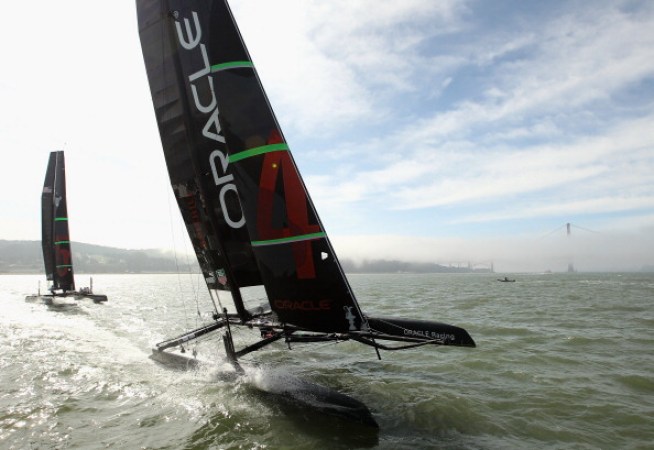 Getty Images
The Oracle Racing AC45 catamarans practice in the San Francisco Bay on February 21, 2012 in San Francisco, California. The AC45 is the forerunner to the AC72, which teams will race in the Louis Vuitton Cup and America's Cup finals in 2013 in San Francisco. The AC45 will be featured at the America's Cup World Series.
The America's Cup yachting race will be an event to remember -- especially for those with $26,000 to burn.
For the lucky executive with a five-figure leisure budget, ten friends can accompany him or her to four days of yacht racing on San Francisco Bay, enjoy "easy parking," and a wine tasting provided by Napa Valley's finest vineyards, the San Francisco Examiner reported.
Loners can enjoy all that by themselves for $3,000, according to America's Cup organizers, who have included the luxury package as part of its offerings for the 2012 racing events scheduled for August and October, according to the newspaper.
Races are scheduled for Aug. 23 - Aug. 26 and Oct. 4 - Oct. 7, the newspaper reported.
These races involve smaller yachts, the newspaper reported. The "real" America's Cup championship races will feature 72-foot catamarans, the newspaper reported.