Joke Costs Santa His Union Square Job
A naughty joke ends 20 year career.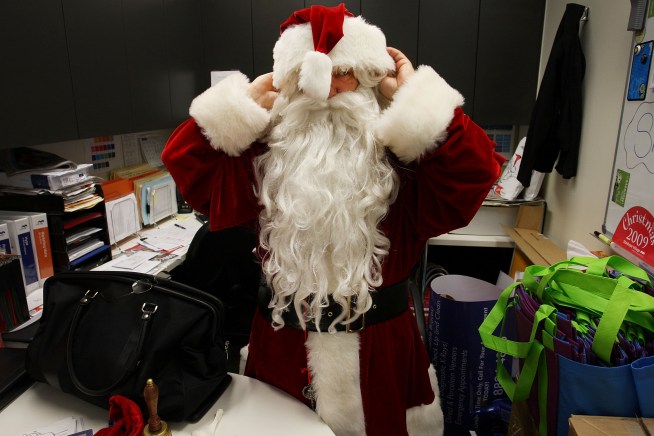 Getty Images
SYDNEY, AUSTRALIA - DECEMBER 06: Twenty year veteran children's entertainer and actor Phil Cale slips in to his Santa suite in a back office at Stanhope Gardens Shopping Centre prior to his performance on December 6, 2009 in Sydney, Australia. Phil Cale is commencing his 6th year playing the role of Father Christmas as a professional Santa performer. Straight Down The Line Promotions is one Sydney company training and supplying hundreds of Santa's to Australian suburban areas, Phil Cale will see an estimated 4000 children during his 35 day assignment at Stanhope Gardens Shopping Centre this year. (Photo by Lisa Maree Williams/Getty Images)
Macy's Union Square has had "Santa John" on the clock for 20 Christmases. He's been a mainstay of the Union Square store since 1990.
But today John Toomey is out of a job because of a joke he says he's used for decades.
Macy's fired Toomey over the weekend after a couple who visited him for a photo complained the joke was in bad taste.
Toomey says he must have told it a thousand times and notes he only tells it to adults.
You be the judge as Toomey tells the joke to SF Gate:
"When I ask the older people who sit on my lap if they've been good and they say, 'Yes,' I say, 'Gee, that's too bad.' Then, if they ask why Santa is so jolly, I joke that it's because I know where all the naughty boys and girls live."
Macy's isn't talking.
Toomey is still hoping his long time employer will reconsider.
A savvy person would tell you that Toomey's phone is already ringing with offers from stores that aren't afraid of a Santa who can tell a joke.