Bird Migration Inspires Island Festival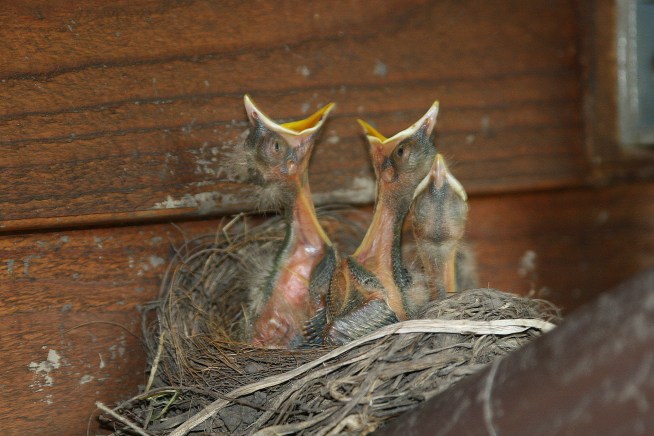 Ronald Cepa
I sent the wrong picture. The one attached is a better one with their necks stretching up. ----- Original Message ---- From: Ronald Cepa To: isee@nbcchicago.com Sent: Sun, June 6, 2010 2:25:09 AM Subject: Waiting for Food to Fall Their Way This is a picture of baby birds that had hatched recently in a nest built over one of my down spouts. Since the nest is right on the down spout, they thought their mother was coming with food since I woke them up cleaning the gutters out near them. When I was taking the pictures, the mother ...
As birds make their way north for the summer, hundreds will flock to Mare Island for the San Francisco Bay Flyway Festival.
Festival-goers will be welcomed by educational displays, art, nature walks, and wild bird demonstrations, according to the Mercury News. The festival starts Friday and runs through the weekend. A new trail will welcome guests with a walk alongside various native species of birds.
Don't worry if you're a newcomer to birding -- experts will be on-hand along the trail to point out animals of interest.
Mare Island is only a sort-of island. It's attached to Vallejo at the northeastern corner of the San Francisco bay, though rainy weather sometimes cuts it off from the mainland by soaking surrounding marshes.
Burrowing Owls will get particular attention at this year's festival, now in its 15th year. An expert on habitat conservation with discuss the burrowing birds on Saturday evening.
But owls were a source of bother yesterday in Hayward, a Cal State science building was evacuated due to a smoky smell that turned out to be baking owl pellets, according to the CC Times. Students needed to heat the pellets to kill bacteria, but someone pulled a fire alarm due to the smell. Confusion reigned for a while, with unconfirmed rumors swirling regarding smoke and bombs. Eventually, everyone calmed down and went back to doing science.