Man IDs Self -- in Writing -- Before Robbing Guns
A Watsonville store manager received high marks from police for her calm handling of a customer-turned-criminal.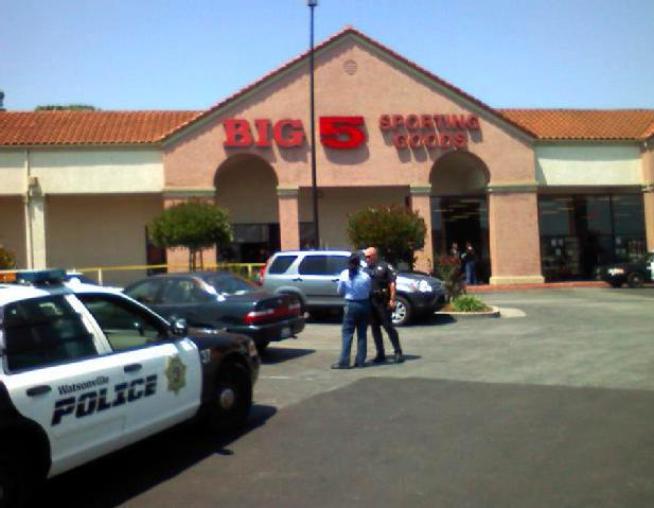 KSBW
A man apparently upset with the process of buying a gun returns to store and opens fire on customers and employees.
She was so calm, the emergency dispatcher didn't believe her.
Doubt was one of the reactions to a Big 5 Sporting Goods' manager 911 call to report a man wielding a shotgun inside the store in Watsonville, according to the Santa Cruz Sentinel. Assistant Manager Letitia Mello had helped 22-year old Robin Miranda fill out the paperwork to purchase a rifle on Tuesday, only to see Miranda leave and return with an electric saw, which he used to remove guns from a wall rack.
"I have a person here that is robbing me of my firearms," she said in an even tone, during a seven-minute 911 call. "I need police help here immediately. He is still in the store and he is getting my guns and he is breaking the locks with tools."
Thanks to the paperwork she'd just filled out, Mello provided police with an exact description of the suspect, from his height and weight and race to what he was wearing.
At one point, Miranda began firing the weapon in the store. She was heard praying on the 911 call. Police arrive two minutes after she dialed the call.
Miranda was shot and killed by police after refusing to drop the shotgun. Police praised Mello's calm flow of information in preparing them for the encounter with Miranda, whose motives for his suicidal spree are unknown.