Courts, Cops: Pepper Spray for Defense, Not Offense
Police training suggest pepper spraying passive protesters excessive force.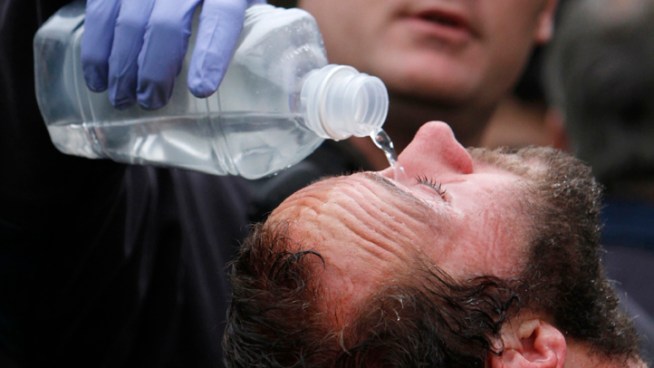 AP
University of California, Davis, student Mike Fetterman, receives a treatment for pepper spray by UC Davis firefighter Nate Potter, after campus police dismantled an Occupy Wall Street encampment on the campus quad in Davis, Calif., Friday, Nov. 18, 2011. UC Davis officials say eight men and two women were taken into custody. (AP Photo/Rich Pedroncelli)
Pepper spray is only for defense, not for offense. So says the law, anyway.
Police training manuals and a Supreme Court case suggest that using pepper spray is acceptable only for self-defense, according to the San Francisco Chronicle.

Theory and method behind using the non-lethal weapon -- a chemical compound which causes temporary blindness -- are based on police training and a ten-year old court case, in which a judge said police used excessive force when pepper-spraying nonviolent protesters.
Pepper spray, which UC Davis police officer Lt. John Pike used on nonviolent protesters at the Central Valley campus last week, "can have very serious and debilitating consequences," and "should only be generally used as a defensive weapon" and never to intimidate or retaliate. Who came up with such hippie logic? The California Commission on Peace Officer Standards and Training, the newspaper reported.
A court battle ensued after officers swabbed pepper spray in the eyes of protesters demonstrating against logging Humboldt County and then sprayed them at close range in 1997. After eight years in the courts, a federal court ruled the cops had used excessive force, and awarded each plaintiff $1 each.
The Davis incident has catapulted pepper spray, Pike, and the UC system to international attention. Since then, the UC Davis chancellor has endured calls to resign, the UC Davis police chief, Pike, and a second pepper-spraying officer have been placed on paid leave, and UC Chancellor Mark Yudoff has offered to pay for the protesters' medical bills. Two had to be hospitalized after the spray.
Whether pepper spray is a "pain compliance technique" to get civilians to acquiese to cops' orders or a "chemical cattle prod" depends on who you ask.