Cupertino Fire Displaced Dozens
Many spent the night at Homestead High School
Sunday, Nov 27, 2011 | Updated 12:18 PM PDT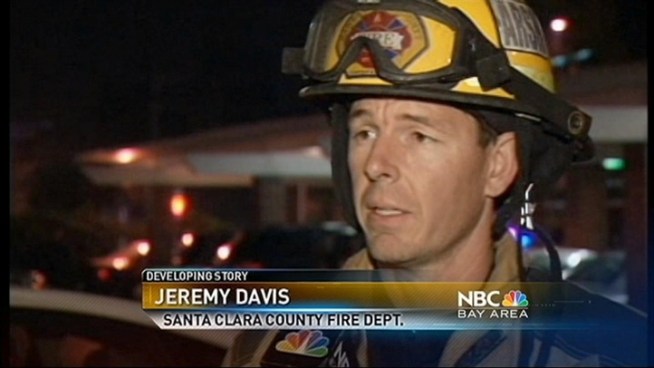 NBC Bay Area's Monte Francis reports on a destructive weekend fire in the South Bay.
A three-alarm apartment complex fire in Cupertino displaced as many as 60 residents Saturday night, according to fire and Red Cross officials.
Firefighters responded to Village Green Apartments at 21230 Homestead Road shortly before 6 p.m., said Santa Clara County Fire Department arson investigator Jeremy Davis.
Davis said the fire was caused by a kitchen accident. One of the residents was heating cooking oil and forgot that the stove was on. When the tenant returned, the oil had caught fire and spread to the kitchen cabinets, and then to the other apartments. The fire affected a total of 16 units. Six units were completely destroyed, two more were damaged by the fire, and the other eight units had smoke and water damage.
Red Cross officials are assisting around 60 displaced residents, and set up a temporary shelter in the gymnasium at Homestead High School at 21370 Homestead Road in Cupertino.
The shelter will provide food, shelter and crisis counseling services. Red Cross officials said 19 residents had checked into the shelter by midnight.
Davis said the building sustained $2 million in damage. Firefighters had the fire under control by 8 p.m., about two hours after arriving.
As many as 100 firefighters responded to the scene, including personnel from Sunnyvale Department of Public Safety, and the San Jose and Mountain View Fire Departments.
The Santa Clara County Sheriff's Department assisted with evacuations. Davis said that no one was injured in the fire.
Davis said that some residents of the building are out of town for the Thanksgiving holiday and may not yet be aware if they were displaced in the fire. He said that residents seeking information about the fire should call (408) 738-2500.
Bay City News