El Pulpo Mecanico, the Firebreathing Octopus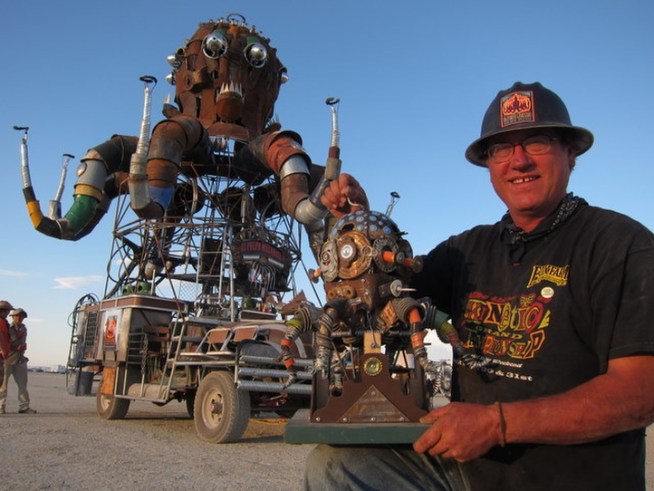 "Creating this model made building this so much easier," said artist Duane Flatmo, from Eureka, CA. Both El Pulpo Mecanicos were built, with the help of Steve Gellman and Jerry Kunkel, out of found and recycled material. The kinetic sculptures have moving arms, eyes and mouths, and the larger one shoots "revolving fire bursts like a machine gun" from the tentacle tips and head, Flatmo said.
Meet "El Pulpo Mecanico" — a steampunk octopus that breathes fire out of its tentacles. It's also a creation built for Burning Man 2011 — a smorgasbord festival "pop-up city" in Nevada's Black Rock Desert that attracts tens of thousands of gatherers to create a community for one week.
According to the official website, for one week, Black Rock Desert is transformed into "Black Rock City" and during that time, everybody builds and creates their own gadgets and gizmos, for the sake of "art, self-expression and self-reliance."
The eeriest part is that just as fast as its participants set up camp, one week later, they all disappear, leaving "no trace whatsoever." Um, sure. Fire spitting steampunk octopus below!