Eleven "Occupy Wall Street West" Protesters Arrested in SF
Banks and courthouses in San Francisco on Friday were treated to Occupy protests.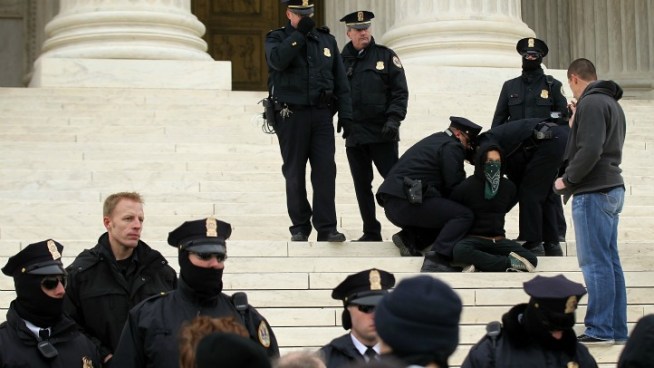 Alex Wong/Getty Images
WASHINGTON, DC - JANUARY 20: U.S. Supreme Court Police arrest a demonstrator on the front steps of the Supreme Court during a protest January 20, 2012 in Washington, DC. More were arrested in San Francisco.
Protesters pitched tents on busy streets and chained themselves to bank buildings in a rainy downtown San Francisco on Friday during what organizers called "Occupy Wall Street West."
By afternoon, eleven protesters have been arrested by police, who moved in shortly after 9 a.m. in riot gear, according to reports.
Montgomery Street was closed when protesters pitched a tent in the middle of the road. Other streets near the 555 California Street building, which houses Goldman Sachs as well as other financial institutions, were closed as of lunchtime.
Protesters chained themselves to the entrance of Wells Fargo Bank and also surrounded a Bank of America branch, according to reports. "We are trying to shut down the bank," one protester was quoted as saying in the San Francisco Appeal online newspaper.
As downtown was assailed, protesters also gathered in front of a federal courthouse at Seventh and Mission streets to "Occupy the Courts."
Later today,more actions are scheduled. A large labor protest in support of workers at Hyatt hotels is scheduled for 4:30 p.m., and there will be a 5 PM march from Justin Herman Plaza, where protesters camped out for about two months before being evicted on Dec. 7, according to the newspaper.