Former A's Great Jose Canseco Busted for Drugs
Aging slugger says his body can't survive without the prescription drugs.
Saturday, Mar 10, 2012 | Updated 2:45 PM PDT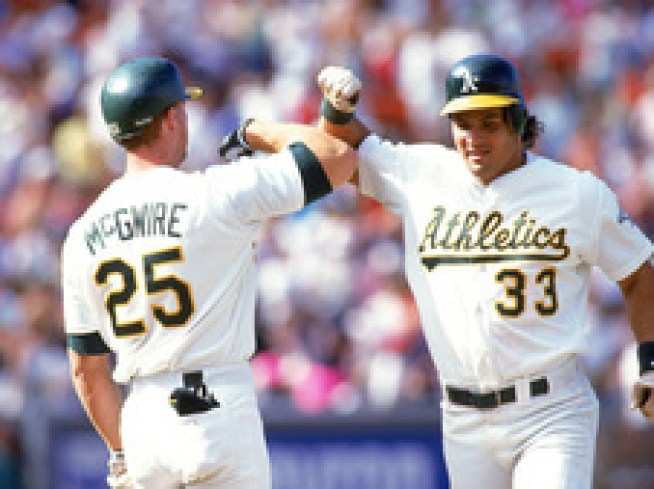 Getty Images
OAKLAND, CA - 1990: Jose Canseco #33 and Mark McGwire #25 of the Oakland Athletics celebrate during a 1990 MLB season game at Oakland-Alameda County Coliseum in Oakland, California. (Photo by Otto Greule Jr/Getty Images)
Former Oakland A's slugger Jose Canseco has been suspended from the Mexican league after allegedly refusing to undergo a doping test.
Mexican league president Plinio Escalante says refusing to take a doping test is treated the same as testing positive in the league.
Quintana Roo Tigers team president Cuauhtemoc Rodriguez says doping control doctors advised Canseco against taking the test because he was using a medicine to produce testosterone.
He says Canseco had already informed the team that he was using the medicine because his body doesn't produce the substance naturally.
Canseco told ESPNDeportes that he has a prescription for the testosterone treatment and "can't live without it."