Hoodies for Trayvon Sunday Held in Bay Area
The fashion of many church services on this Sunday was a sweatshirt with a hood.
Monday, Apr 9, 2012 | Updated 4:37 PM PDT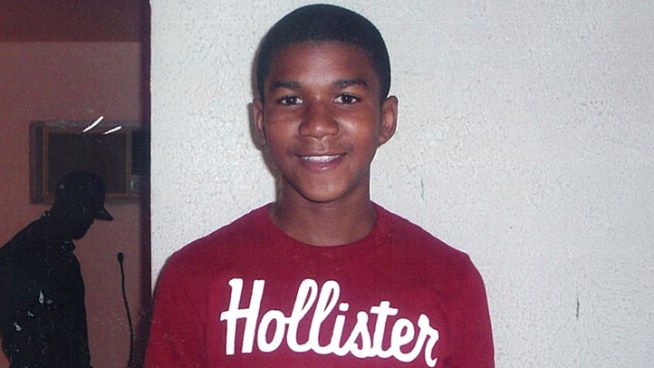 AP
In this undated family photo, Trayvon Martin poses for a family photo. The family of the black teenager fatally shot by a white neighborhood watch volunteer arrived at Sanford City Hall Friday evening March 16, 2012 to listen to recordings of 911 calls police previously refused to release. Police agreed to release the recordings earlier that afternoon. Officials are allowing the family of 17-year-old Trayvon Martin to hear the recordings before making them public. Martin's parents previously sued to have the recordings released. A hearing for the case was scheduled for Monday. Martin was fatally shot last month as he returned to a Sanford home during a visit from Miami. His parents, Tracy Martin and Sybrina Fulton, accused Sanford police of botching the investigation and criticized them for not arresting 28-year-old George Zimmerman, who says he shot Trayvon Martin in self-defense. Martin was not armed. They say the police department hasn't arrested Zimmerman because he is white and their son was black. (AP Photo/HO, Martin Family Photos)
Church goers in cities across the country and here in the Bay Area wore hoodies to Sunday services today to honor the Florida teenager shot to death last month by a neighborhood watch volunteer.
Allen Temple Baptist Church in Oakland held "Hoodies for Trayvon Sunday" in response to killing of 17-year-old Trayvon Martin in Sanford, Florida.
Martin was wearing a hoodie as he walked back to his father's fiancee's house in Sanford, Florida, after a trip to the store.
He was unarmed. Police said he was only carrying a bag of Skittles and a can of iced tea.
Martin was shot by a man named George Zimmerman, who claims he was acting in self defense. Zimmerman has not been charged in the case.
The Allen Temple church said it "must stand in solidarity with the Martin family and those who demand that Martin's shooter be brought to justice."
Ebenezer Baptist Church in Atlanta and Middle Collegiate Church in New York also took part in the hoodie protest.