Human Waste a Problem at Occupy SF, Not the Tenderloin
But only one area of the City is attracting police attention.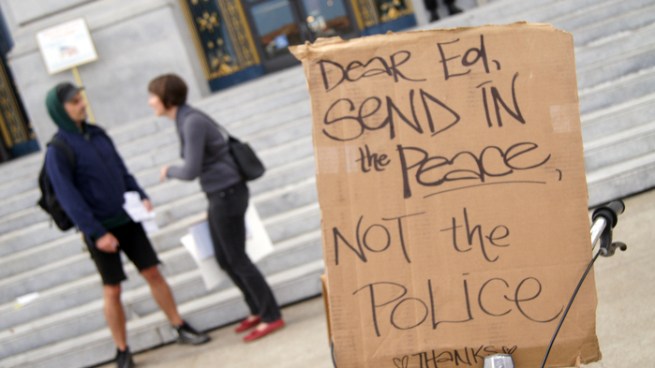 Mat Luschek
A small group of Occupy SF protesters gathered outside City Hall in downtown San Francisco Tuesday, Oct 18, 2011.
San Francisco public health officials said Tuesday that the presence of urine and feces at Occupy SF create a public health hazard.
Meanwhile, residents of the Tenderloin, South of Market and Mission wonder if the inspectors have ever visited their neighborhoods.
A notice issued by the Department of Public Health on Tuesday mentioned "evidence" of human waste at the encampment, including vomit, urine, tampons, and more, according to the San Francisco Examiner.
The newspaper asked health officials to compare Justin Herman Plaza, where protesters have been camped out for almost a month, to a street corner in the Tenderloin, and officials declined. However, the comparison -- and the contrast -- is obvious.
Campers on scene Wednesday scoffed at the reports of filth, according to the newspaper. "I've seen dog waste, but that's been picked up," said one, who rented a portable toilet that was dropped off at the protest site on Wednesday.