Jack Dorsey Meets With Nicolas Sarkozy, Rivals
Co-founder of Twitter and Square has long had his own political aspirations.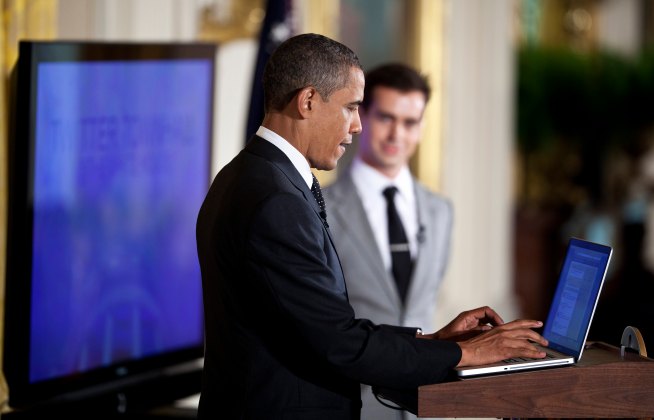 Getty Images
U.S. President Barack Obama posts a Tweet during an online Twitter town hall meeting from the East Room of the White House July 6, 2011 in Washington, DC. Obama and Twitter co-founder and Executive Chairman Jack Dorsey held the online discussion to speak about the U.S .debt ceiling crisis. (Photo by Brendan Smialowski/Getty Images)
It pays to be the founder of two of the hottest startups in the world when you have political aspirations.
Jack Dorsey has not been shy that he dreams of one day being the mayor of New York City. It was his fascination for maps and communication that propelled the ideas for Square and Twitter into reality.
That same passion at least in part is the catalyst behind his dream of becoming the mayor of the Big Apple.
Perhaps brushing up on his political moxie, the co-founder of both Square and Twitter is in France this week and he has meetings with two of the country's biggest political figures.
And both happen to be on Twitter.
"Walking to @Elysee on a beautiful Paris day to meet President @NicolasSarkozy," Dorsey tweeted Wednesday morning.
That meeting follows one he had Tuesday with Presidential Candidate François Bayrou.
"And now on my way to meet Presidential Candidate François Bayrou (@bayrou)! Questions for him?" He tweeted.
While Square is not available outside of the United States yet, Twitter has already shown the power it can have on the international political arena.
Dorsey has also recently met with current New York City Mayor Michael Bloomberg and he recently hosted San Francisco Mayor Ed Lee at Square.
He also once interviewed another avid tweeter and political heavyweight: @BarackObama.