Lanes Re-Open on 680 After Big Crash
All lanes re-opened in Pleasanton by morning commute.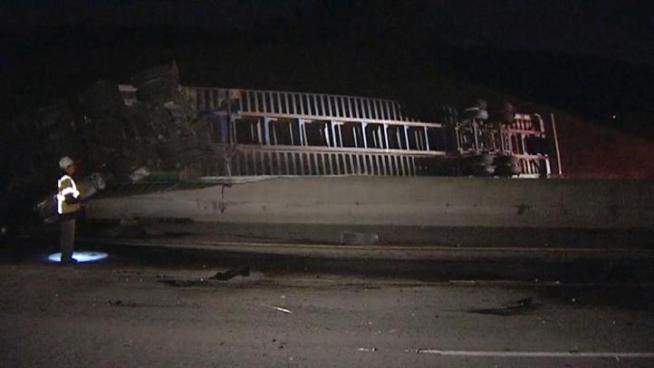 A big-rig carrying diesel and chemicals crashes into a center divide on I-680 in Pleasanton.
Following a potentially hazardous chemical crash, all lanes re-opened on a Pleasanton highway Monday by about 6:30a.m.
Interstate Highway 680 at Sunol Boulevard had been closed since about 10 p.m. Sunday night after a big-rig smashed into a center divide. The driver reported to the CHP that he had been having mechanical problems.
Authorities were concerned that the rig's tank, carrying diesel and lithium, would leak. But according to fire authorities, that didn't occur. Ten other vehicles were impacted because of the accident, according to the CHP, but there was only one minor injury.