Man Injured in Oakland by Officer's Bullet
The man was wanted by police but few details were given.
Wednesday, Mar 14, 2012 | Updated 10:30 AM PDT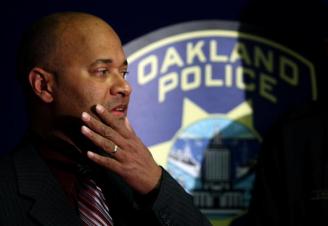 Getty Images
Oakland Police Chief Howard Jordan has an officer-involved shooting he has to deal with.
A man was hospitalized in an officer-involved shooting in East Oakland Tuesday night, an Oakland police officer said.
An officer shot a man wanted by police at 90th Avenue and Cherry Street at 8:47 p.m., Oakland police Officer A. Frye said.
The man was shot and taken into police custody. He was then transported to a hospital in stable condition, Frye said.
No other injuries were reported, he said.
Further details about the officer-involved shooting were not immediately available.