Michelle Le's Family Continues to Search for Missing Nursing Student
Volunteers assisted family members of Michelle Le on Saturday in a physical search for clues to the missing nursing student's whereabouts.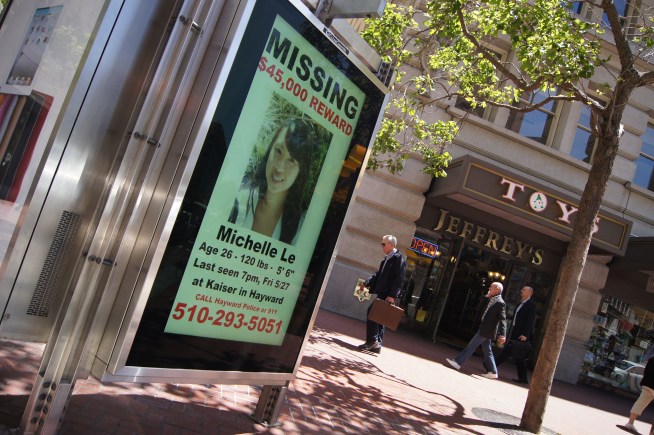 A poster in downtown San Francisco offering a reward for help locating missing woman, Michelle Le. Photo: Mat Luschek
Police declared the case a homicide investigation weeks ago. What clues remain out there are a month old.
Yet the family of missing nursing student Michelle Le haven't given up hope that the 26-year old is alive, and continue to search for the San Mateo native.
Volunteers and family members scoured the Hayward area on Saturday, looking for as yet-undiscovered clues that may lead to her discovery. Le went missing from Kaiser Hospital in Hayward on May 26 following an evening shift at the hospital. She was wearing white hospital scrubs.
Le's family hasn't always seen eye-to-eye with the authorities investigating her disappearance, the San Francisco Examiner notes. The family hired a private investigator to pursue angles police may have left untouched last week. The PI, Michael Frame, has promised anonymity, protection and relocation assistance to anyone who brings information forward to police, the Examiner reported.
That said, the family has not abandoned the "official" route entirely, and remains in daily contact with Hayward cops.