San Francisco Muni Train Crashes Into Big Rig at Embarcadero Intersection, Four Injured
The Embarcadero intersection has been cleared after a crash involving a Muni trolley.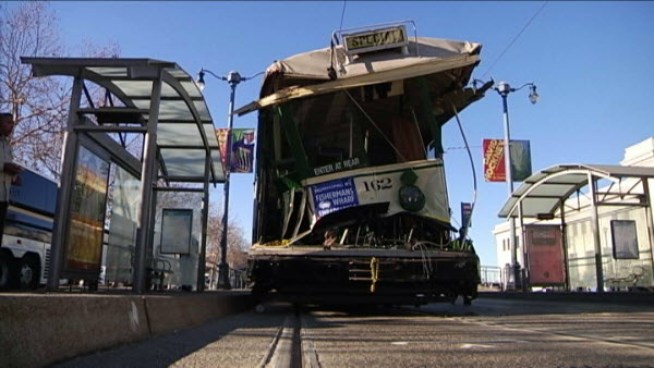 A SF Muni train crashed into a big rig Saturday afternoon, leaving the train smashed. - Jan. 4, 2014
An intersection along San Francisco's Embarcadero has reopened after a Muni light-rail train smashed into a big rig Saturday, sending four people to the hospital with minor injuries, according to police and fire personnel.
Police said the crash between the Muni F-line trolley and a big rig truck was reported around 12:45 p.m. on the Embarcadero near Bay Street.
Four people were sent to area hospitals to be treated for minor injuries suffered in the crash, which slowed traffic around the intersection for more than an hour, according to fire and police personnel.
An investigation into the cause of the crash is underway.