Nudity Ban on Tap in "Fed-Up" San Francisco
The final battle over private parts in public brews.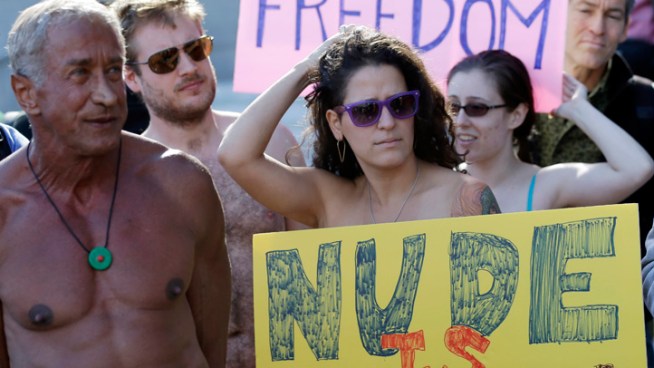 AP
Demonstrators gather outside of City Hall in San Francisco for a protest against a proposed city-wide nudity ban, Wednesday, Nov. 14, 2012. San Francisco appears poised to shed part of its image as a city where anything goes, including clothing. The Board of Supervisors is scheduled to vote next week on a law that would ban public nudity. The proposal comes in response to a devoted group of nudists who proudly strut their stuff through the city's Castro District. (AP Photo/Marcio Jose Sanchez)
The city by the Bay, where everything goes? That's going, going, gone.
Sparked by a group of dedicated nudists in the city's Castro District, where shopkeepers, parents, and proponents of decency have had enough, the Board of Supervisors will vote on a "blanket ban" on exposing "genitals, perineum or anal region" in public.
Supervisor Scott Wiener is the legislation's sponsor. Violations of the ban would risk a $100 fine, repeat violations could lead to a $500 fine and a year in jail, according to reports.
People could still be naked on special events like gay pride and the Folsom Street Fair, the Associated Press reported. But on a typical Monday? No way.
Opponents of the ban say that their freedom and rights are being infringed. Worse yet, they say that San Francisco is being violated as a haven where a free spirit can thrive freely.
Nonsense, Wiener says.
"I don't think having some guys taking their clothes off and hanging out seven days a week at Castro and Market Street is really what San Francisco is about. I think it's a caricature of what San Francisco is about," he said.
The vote happens at the Board's 2 p.m. meeting. Look for another naked protest ahead of time.