Oakland Raiders Interview Green Bay's Reggie McKenzie for GM Job
McKenzie was drafted by the Raiders and was tutored by Ron Wolf.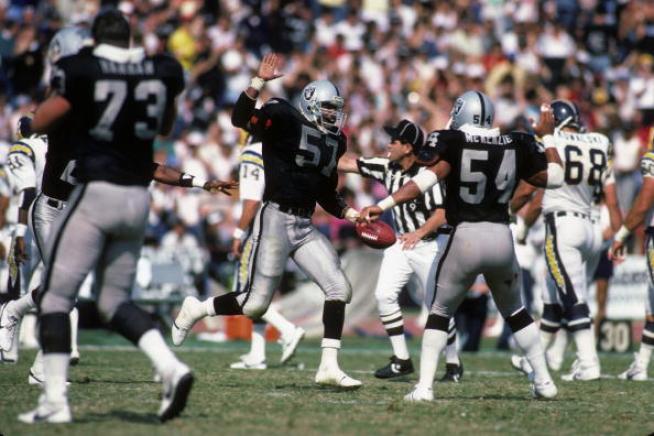 Getty Images
(L-R) Linebacker Jerry Robinson #57 of the Los Angeles Raiders celebrates with fellow linebacker Reggie McKenzie #54 during the game against the San Diego Chargers at the Los Angeles Memorial Coliseum on Sept. 28, 1986. Years later McKenzie is a GM candidate.
The Oakland Raiders rebuilding effort is officially underway just two days after the team's season was ended.
Green Bay Packers director of football operations Reggie McKenzie is reportedly in the Bay Area interviewing for the Raiders' vacant general manager position, according to former Raiders' executive Michael Lombardi.
The former linebacker played for the Los Angeles Raiders from 1985 to 1988 and has worked with the Packers organization since 1994.
The 48-year-old has largely been credited with the resurgence of the Packers and is hire would signal a major shift for the Raiders who are looking for a dynamic personal guy following the death of legendary owner Al Davis.
McKenzie is a disciple of former Raiders and Packers GM Ron Wolf, who drafted McKenzie in the 10th round for the Los Angeles Raiders, highly recommended the Tennessee product for the job.
The Raiaders would not be able to higher McKenzie until the Packers postseason run comes to an end.