Officer-Involved Shooting in San Francisco's Marina District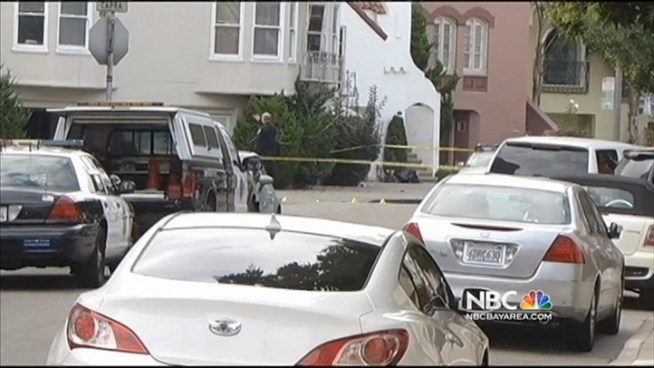 In San Francisco, gunshots rang out in the Marina District this afternoon. The first shots were fired on Chestnut Street at about 12:30 p.m., and then, police chased the suspect into a residential neighborhood where they shot him. NBC Bay Area's Chase Cain has more from the Marina tonight.
San Francisco police officers shot a man this afternoon who allegedly pointed a gun at them after firing shots at a victim in an apparent dispute in the Marin district, according to a police spokesman.
The shooting occurred after police were called to a reported fight at Chestnut and Pierce streets around 12:30 p.m., Officer Albie Esparza said.
An adult latino male suspect was allegedly seen there striking a victim on the head with a silver handgun, Esparza said.
The suspect then allegedly fired several rounds at the victim and fled east on Toledo Way, before concealing himself in a bush at Mallorca and Capra ways, Esparza said.
Police located the suspect and ordered him out, but he ran north on Mallorca and then allegedly turned the gun on the officers, Esparza said.
Several of the officers fired and struck the suspect. He was taken into custody and taken to San Francisco General Hospital, where he is listed in serious condition in surgery, Esparza said.
Police have located the initial victim, who fled the area in a blue vehicle with a female driver, outside the county, Esparza said. Investigators are on their way to interiew him.
The shooting is under investigation and homicide detectives, crime scene investigators and investigators with the district attorney's office all remain on scene.