Ogwumike Taken 1st in WNBA Draft
Stanford standout was projected
Monday, Apr 16, 2012 | Updated 11:12 AM PDT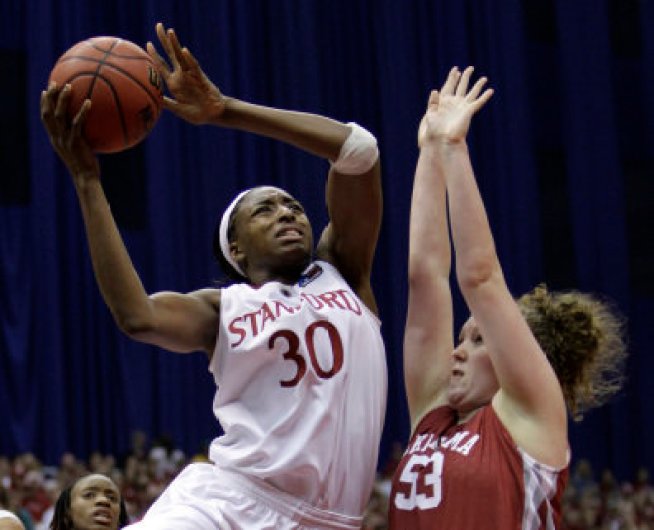 ASSOCIATED PRESS
Stanford's Nnemkadi Ogwumike (30) shoots over Oklahoma's Joanna McFarland in the second half of a semifinal in the Final Four of the NCAA women's college basketball tournament April 4. Ogwumike was taken first overall in the 2012 WNBA Draft.
It was a natural progression for Nneka Ogwumike after a stellar career at Stanford: become the top pick in the 2012 WNBA draft.
Ogwumike was chosen by the Los Angeles Sparks as the first overall pick on Monday. She'd been expected to go first for months.
"The kid is awesome," Sparks General Manager Penny Toler told the Los Angeles Times. "She has great leadership skills, she works hard, she has all the intangibles."
Ogwumike becomes the first top pick, overall, to come out of Stanford -- where she averaged 22.5 points and 10.2 rebounds per game this past season..
She gives the Sparks depth in the post, considered a key for the team's success in 2012.
The Sparks also have three of the first four picks in the second round today.
The Cardinal made it to the Final Four in all of her seasons, losing to Baylor most recently. The 6-2 forward won a gold medal with USA Basketball World University Games team in 2011, also, during her undergrad career in Palo Alto.