Pleasanton Residents Think Twice Before Answering Front Door
A man in his late teens scared two women by trying to bust down a front door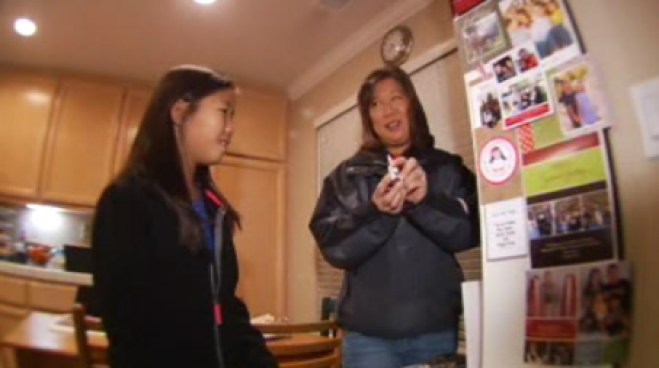 Some Pleasanton residents are spooked after a man in his late teens tried busting through the front door of a home in quiet neighborhood near the 680 freeway. NBC Bay Area's Stephanie Truang report.
What used to symbolize a friendly gesture has become much more menacing for some Pleasanton residents: a knock on the door.

There were several insistent knocks on the door of one house on Tapestry Way just after 11 a.m.
The two women inside thought it might be a door-to-door solicitor and decided not to answer, but the silence turned into an invitation for the man standing outside. Pleasanton police say a white man in his late teens started to try and pry the door open. When that was unsuccessful, he began to kick the door. That's when one of the women screamed inside, sending the suspect into a white pick-up and peeling out of the neighborhood.

Right across the street on the other side of Bernal? The 680 freeway. "It is very nervewracking knowing that we are close to the freeway," admitted Sandy Fujino, who's lived on that street for 18 years. "That is easy access in and out, unfortunately."

Her friend, Michael Urueta, was working on her house just a few doors down when he spotted the white pick-up, but thought nothing of it. "Kind of like he was looking for an address, like he was lost. I've done that before." But after learning of the news, he realized the guys inside were likely canvassing the neighborhood.

"I was right here cutting tile – I had earplugs in – didn't even know it till police officers had walked up to me. I wish I had known. I was only a few doors away. Nine years in the Marine Corps, I would've went down there and helped out if you know what I mean."

The neighborhood is lined with signs, warning would-be thieves and criminals of security cameras. There are also "no solicitation" warning signs, but that hasn't stopped another type of knock on the door. Fujino said her friends have been warning of overly-aggressive door-to-door salespeople, and recalled the most recent example from a friend. "She tried to be very polite about it – no thank you – and that time, the person actually put their foot into the door to stop the door from closing."

Just north of that neighborhood is Oak Hill, around West Las Positas and Foothill. People there are complaining of the same thing, in particular, men selling magazines who border on being forceful. Both neighborhoods sit next to 680. Police say proximity to the freeway is what makes them such hot targets, applying not only to homes but elsewhere. Wednesday night just before 10 p.m., police say a man was held at gunpoint at the Shell gas station on Santa Rita Road – right next to 580. They're hoping people will be extra alert, recognizing circumstances may make them more prone to becoming victims.

As for if you get a knock at the door, police recommend letting people outside know you're home –but to keep that door closed.

"By not answering the door, you think you're doing all the right things," said Fujino, a mother of three. "Still knowing that somebody is that brazen to get through the dooror want to get through the door, it's gut wrenching for me."
Follow NBC BAY AREA for the latest news, weather, and events: iPad App | iPhone App | Android App | Facebook | Twitter | Google+ | RSS | Text Alerts | Email Alerts