SF Judge Weighs Blocking Nudity Ban
A judge will weigh in on the constitutionality of clothes.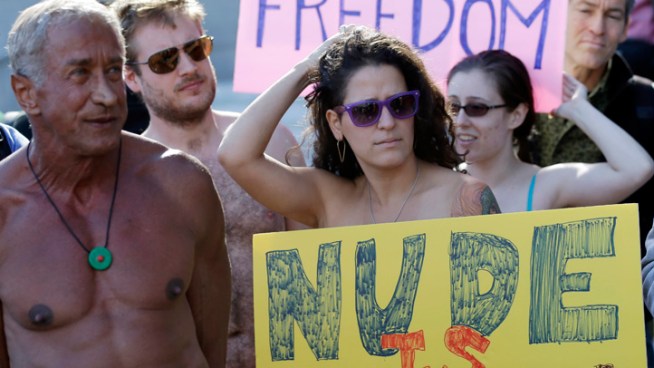 AP
Demonstrators gather outside of City Hall in San Francisco for a protest against a proposed city-wide nudity ban, Wednesday, Nov. 14, 2012. San Francisco appears poised to shed part of its image as a city where anything goes, including clothing. The Board of Supervisors is scheduled to vote next week on a law that would ban public nudity. The proposal comes in response to a devoted group of nudists who proudly strut their stuff through the city's Castro District. (AP Photo/Marcio Jose Sanchez)
A federal judge in San Francisco on Thursday decided to continue thinking about the constitutionality of the city's nudity ban.
U.S. District Court Judge Edward Chen had been asked to block the law from going into effect on Feb. 1, but decided that he needed more time to consider the issue. He did not set a future court date to reconvene.
Fans of going about in the buff oppose the law strongly, saying the ban is an attack on free speech because going naked is a "political statement."
There's also an equal protection rights argument, as the law does exempt people under the age of 5 from punishment for going nude, and also allows people to go naked during the annual Pride parade and at Bay to Breakers.
Under Supervisor Scott Wiener's law, first-time offenders carry a maximum $100 penalty, but a third offense could be punishable as a misdemeanor, with a $500 fine and a year in jail. Weiner introduced the legislation after receiving constituent complaints about the naked men who gather in a neighborhood plaza and sometimes walk the streets sans clothing.
The law passed last month by a razor-thin margin after city leaders endured months of vocal and naked protests from ban opponents.