San Jose Settles Police Lawsuit with Man Shot While Holding Toy Gun
A man dressed in scrubs and carrying a toy gun was shot by San Jose police after a Halloween party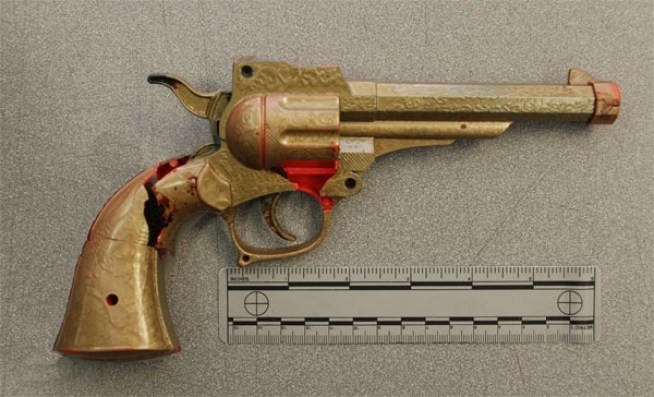 San Jose Police Department
This is a photo of the item a man was holding when shot multiple times by San Jose police.
San Jose officials have tentatively agreed to pay nearly $5 million to settle a lawsuit by a man who was shot more than 20 times by police after they mistook his toy gun for the real thing.
The San Jose Mercury News reports Wednesday that the proposed deal would settle Javier Gonzales-Guerrero's federal lawsuit against the city.
The 25-year-old construction worker had passed out drunk at the Extended Stay Deluxe Hotel on Brokaw Road in San Jose after attending a Halloween costume party Oct. 23, 2011.
Hotel guests became concerned about the sleeping man, who was dressed as a surgeon and had a gold-colored revolver tucked in his waistband.
Police said that officers who responded to the scene fired at Gonzales-Guerrero when they saw him move his hands toward the gun.
Gonzales-Guerrero survived the gunshot wounds after multiple surgeries. According to the suit, he still has one bullet permanently lodged in his spine.
RELATED STORIES: