Steady Rain Brings Problems to the Bay Area
Downed trees and power lines caused problems for residents and businesses Wednesday.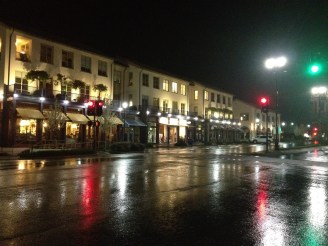 Cheryl Hurd
The streets of Lafayette are wet after a rainy day Wednesday. The forecast is wet for the rest of the week.
The rain never let up in the Easy Bay Wednesday and that was bad for business, according to one shop owner.
"Today was really slow," said Zahra Tafti, who runs Zahara Boutique Salon. "Hopefully we'll get some business tomorrow."
Downed power lines also kept PG&E workers busy in Lafayette. At one point, close to 600 people were without power near the city's BART station.
"We have been without power most of the day," Tony Dudum said. "I have two infant children at the house so it's kind of a pain. We get creative we get back to basics sometimes. That's good. We all need to go back to the basics. It's humbling a little bit."
In Oakland, a 70-foot tall tree came crashing to the ground Wednesday morning, temporarily blocking the Coolidge on ramp to Interstate 580.
Then later, at 580 and Fruitvale, another tree fell onto a car.