USF Therapy Dogs Relieve Students' Stress During Finals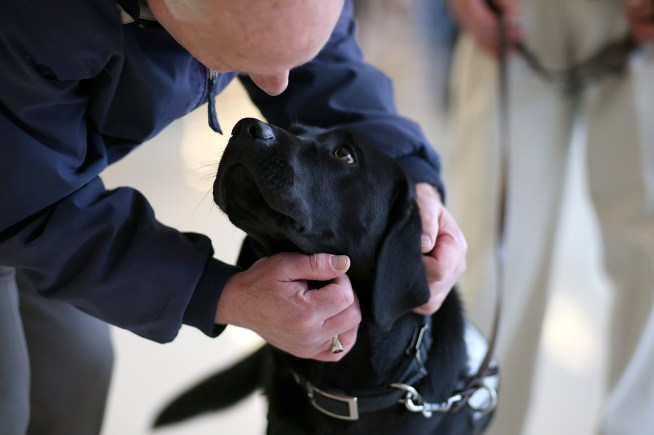 Getty Images
Organizers from University of San Francisco and SPCA's "Animal Assisted Therapy Program" hope therapy dogs on campus will help relieve stress for students during finals. (Photo by Justin Sullivan/Getty Images)
Students at the University of San Francisco now have the option to take a break from the books...to relax with therapy dogs.
In conjunction with the SPCA's "Animal Assisted Therapy Program," USF will allow students to spend time with therapy dogs - they can play, cuddle, or just relax with the dogs.
Two super friendly dogs from the San Francisco SPCA will be at the "Furriends for Finals" event in the Gleeson Library Atrium.
Organizers hope it will help relieve stress during final exams.
MORE: Dogs and Kindness Help Stressed Teens
Monday marked the day for stressed-out students to take a break with some furry friends. The dogs will be at USF in Gleeson Library both Monday and Tuesday from 11 a.m. until 1 p.m.
University of San Francisco says it is committed to providing students with events to decompress and enjoy finals week.
In addition to Furriends for Finals, the university hosted a variety of events leading up to finals including a Holiday Tree Lighting, caroling, and yoga at Stress Management and Mindfulness
Just last week, SFO announced plans to have several therapy dogs roaming the terminals, in hopes of bringing comfort to anxious flyers.
MORE: Therapy Dogs Welcomed at San Francisco International Airport