UC President Defends Louis Farrakhan's Controversial Speech in Berkeley
Mark Yudof defended the Nation of Islam Minister's right to speak, even after "hurtful speech."
Saturday, Mar 10, 2012 | Updated 9:30 PM PDT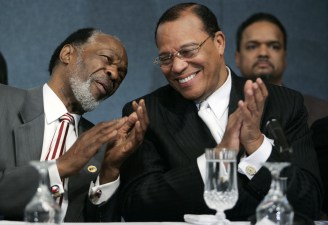 Getty Images
Minister Louis Farrakhan (right) speaks with Marion Barry in May 2005. Some protested Saturday after a speech they felt was anti-Semitic.
University of California President Mark Yudof decried Nation of Islam Minister Louis Farrakhan as "provocative" and "divisive" today following a speech at UC Berkeley.
Farrakhan spoke today during an Afrikan Black Coalition Conference organized by the Black Student Union. The appearance drew protests from those opposed to Farrakhan's views, but Yudof still defended his right to speak.
"Louis Farrakhan is a provocative, divisive figure with a long history of racist, anti-Semitic and homophobic speech," Yudof said. "It was distressing in the extreme that a student organization invited him to speak on the UC Berkeley campus."
"But, as I have said before, we cannot, as a society or as a university community, be provoked by hurtful speech to retreat from the cherished value of free speech," Yudof said.