Wal-Mart Grocery Delivery in San Jose
SJ is the only test market thus far for the giant retailer.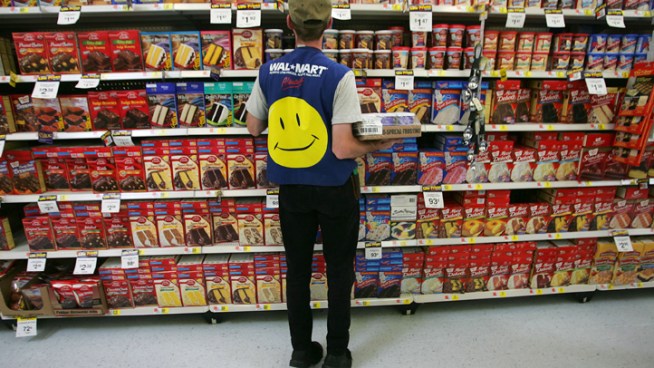 Getty Images
TROY, OH - MAY 11: An employee restocks a shelf in the grocery section of a Wal-Mart Supercenter May 11, 2005 in Troy, Ohio. Wal-Mart, America's largest retailer and the largest company in the world based on revenue, has evolved into a giant economic force for the U.S. economy. With growth, the company continues to weather criticism of low wages, anti-union policies as well as accusations that it has homogenized America's retail economy and driven traditional stores and shops out of business. (Photo by Chris Hondros/Getty Images)
From America's largest retailer to your front door, San Jose: fresh groceries. Announced Saturday, Wal-Mart is testing a grocery-delivery system in the South Bay.
The new "Wal-Mart To Go" allows customers to register online and pick their various and sundry items for delivery. Delivery, that is, to these ZIP codes: 95053, 95124, 95008, 95118, 95130, 95125, 95117, 95129, 95051, 95128, 95126, 95110, 95050, 94087 and 94086.
The move is directed to help Wal-Mart protect its retail space against online vendors like Amazon. com as well as with other less expensive, dollar chains, according to USA Today.
The minimum order is $5 for delivery (and with gasoline hovering at about that rate, well, it's almost like stealing).
Users can order produce, meat/seafood, beverages (not alcoholic, though), diapers ... basically whatever is available at the local grocery store.