Watch Jim Harbaugh Drain Half-Court Shot -- In Khakis
Khaki-clad man-about-town Jim Harbaugh dominates in Kansas.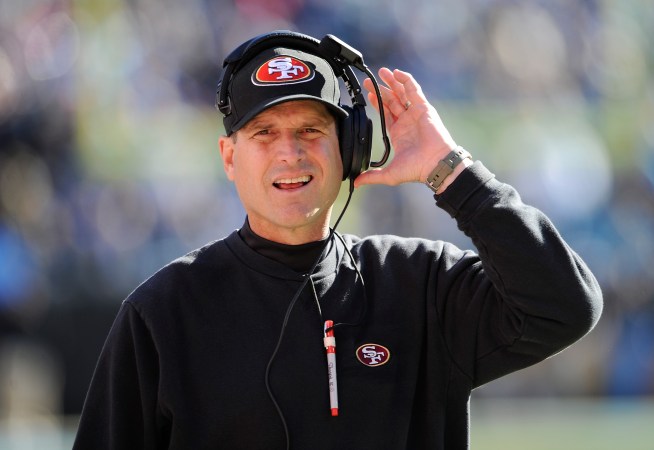 Getty Images
Head coach Jim Harbaugh of the San Francisco 49ers looks ok from the sideline in the second quarter against the Carolina Panthers during the NFC Divisional Playoff Game at Bank of America Stadium on January 12, 2014 in Charlotte, North Carolina. (Photo by Grant Halverson/Getty Images)
It's gotta be the pants.
Khaki-clad leader of men Jim Harbaugh visited the University of Kansas mens' basketball team recently. The 49ers coach, clad in his familiar uniform of Niners cap and top, paired of course with his pleated khakis -- shirt tucked in, with belt -- took a shot from way beyond downtown.
And drained it.
Observe:
What else can you say? Coach can play. And looks good doing it.
Sidelines or a basketball court, do it well -- do it in tan.