WTC Light Beams Pay Tribute to Day "Like None Other"
Thursday, Sep 12, 2013 | Updated 5:16 AM PST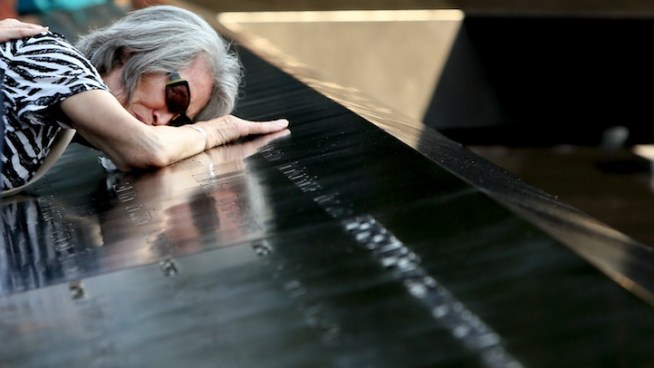 Getty Images
NEW YORK, NY - SEPTEMBER 11: Mija Quigley of Princeton Junction, NJ embraces the name of her son Patrick Quigley who died aboard Flight 175 during ceremonies for the twelfth anniversary of the terrorist attacks on lower Manhattan at the World Trade Center site on September 11, 2013 in New York City. The nation is commemorating the anniversary of the 2001 attacks which resulted in the deaths of nearly 3,000 people after two hijacked planes crashed into the World Trade Center, one into the Pentagon in Arlington, Virginia and one crash landed in Shanksville, Pennsylvania. Following the attacks in New York, the former location of the Twin Towers has been turned into the National September 11 Memorial & Museum. (Photo by Chris Pedota-Pool/Getty Images)
Americans took time to remember those lost in the Sept. 11, 2001, terrorist attacks in memorials, classrooms, homes and work places across the country Wednesday. Crowds gathered at the site of the former World Trade Center twin towers in New York City at 8:46 a.m. ET for a moment of silence to mark the time that the first plane crashed into the downtown buildings. President Barack Obama marked the moment on the White House lawn, followed by a moment of silence at the Pentagon to remember the time Flight 77 hit the building. Friends and family members read the names of the deceased at the 9/11 Memorial in New York. Workers in Shanksville, Penn., broke ground on the Flight 93 National Memorial on Tuesday to begin construction on a visitor center that will tell the history of Flight 93, the plane that was taken by four hijackers and turned towards Washington, D.C. And Wednesday evening in lower Manhattan, the twin beams of the "Tribute of Light" was set to begin at sunset.
Get More at NBC News