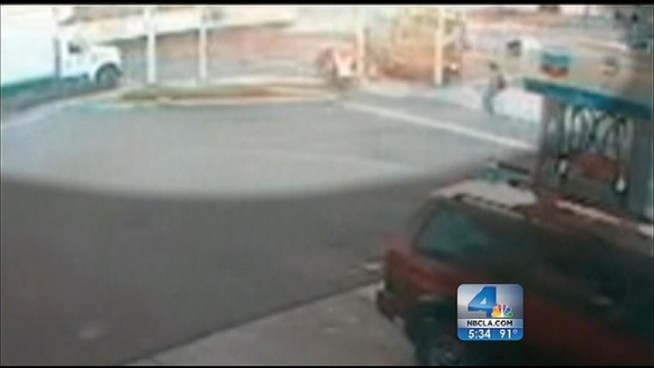 Gordon Tokumatsu
An operator error may be to blame for the collision between a Metro train and bus. Thirty-two people were hurt -- mostly with minor injuries -- when the Blue Line train clipped the back of the bus at the intersection of San Pedro Street and Washington Boulevard near Downtown LA. Gordon Tokumatsu reports from Downtown LA for the NBC4 News at 5 p.m. on August 27, 2012. Correction: A previous version of this video indicated the train involved was operated by Metrolink. The train was operated by Metro.
More than 30 passengers were injured early Monday when a Metro bus and blue line train collided at San Pedro Street and Washington Boulevard south of downtown Los Angeles, according to the LA Fire Department.
At least 40 people were on board the bus. Medical personnel were attending to as many as eight people who were traveling on the train toward Long Beach.
The bus, operating on line 51, was southbound on San Pedro Street. At about 7 a.m., the train clipped the rear of the bus in the intersection, according to Metro officials.
The bus then crashed into at least two light poles, according to LAFD officials.
None of the injuries were considered life-threatening, according to fire-rescue officials. The injured were in good to fair condition, according to the LAFD.
Aerial video showed several passengers being transported aboard gurneys to ambulances.
The intersection at Washington Boulevard and San Pedro Street was closed as crews helped passengers from the bus and train. Major delays were expected, according to Metro.
Follow NBCLA for the latest LA news, events and entertainment: iPhone/iPad App | Facebook | Twitter | Google+ | Instagram | RSS | Text Alerts | Email Alerts