Gay Marriage Backers Push Prop 8 Repeal As Time Runs Short
Despite disagreements over strategy, some organizers are pressing ahead with an 11th-hour campaign to restore gay marriage.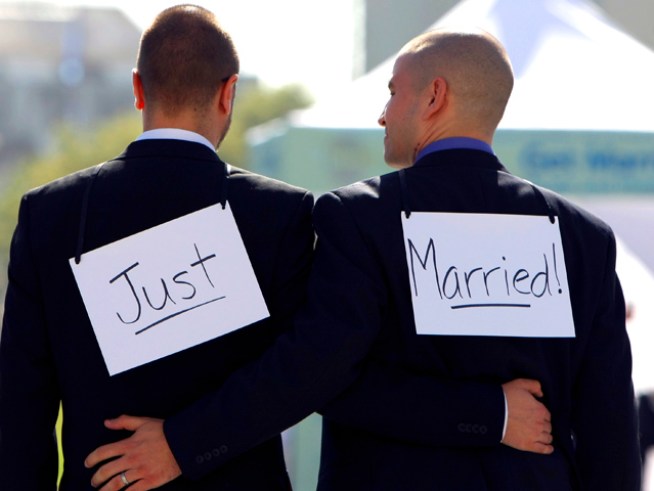 Getty Images
Same-sex couple Ariel Owens (right) and his spouse Joseph Barham walk arm in arm after they were married at San Francisco City Hall June 17, 2008 in San Francisco, California. Activists disagree on how to seek the restoration of same-sex marriage rights.
In the wake of last year's ban on marriage for gay couples, debate raged about the timing for Proposition 8's repeal. Many groups feel that more groundwork is needed for a successful campaign; but a coaltion known as "Tenners" are moving forward with an ambitious plan to put the marriage ban on the ballot in 2010.
The move comes in the wake of an LA Times poll showing slim statewide support for equal marriage. But the poll also indicated that a majority of Californians oppose revisiting the issue in 2010. In addition, polling in the leadup to Maine's recent vote on gay marriage seemed to indicate that voters may slightly overstate their support for equality.
The group has until April 12 to gather one million signatures -- a nearly impossible task. But organizers are optimistic, with a statewide flurry of signature-gathering activity.
In the mean time, other civil rights groups are careful not to criticize the 2010 effort while laying their own groundwork for a 2012 campaign. Equality California recently stepped up pressure on the Obama administration to join the federal challenge to Prop 8; and Courage Campaign continues to train volunteers to have effective one-on-one conversations with voters.
No matter when the vote happens, the close polling and fervent activism makes it clear that the fight is far from over.