Record Snowfall Buries Climate Bill But Sparks Debate
Does the blizzard that has paralyzed D.C. and the northeast support or detract from the theory on global warming?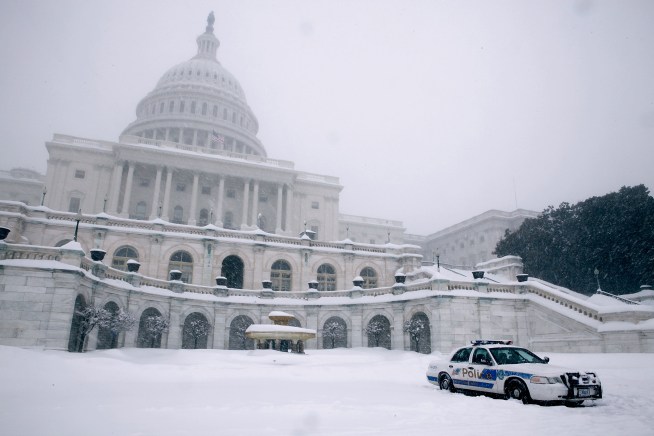 Getty Images
WASHINGTON - FEBRUARY 10: A U.S. Capitol Police cruiser sits parked in the plaza in front of the Capitol during a powerful winter storm February 10, 2010 in Washington, DC. The capital area was crippled Wednesday with the second major winter storm of the season as whiteout conditions forced the area's three major airports to cancel flights and the postal service suspended delivery. (Photo by Chip Somodevilla/Getty Images)
The historic snowfall in D.C. has shut down the federal government and hope seems to be withering that a significant climate change bill can be passed this year.
In addition to paralyzing the nation's capitol, the blizzard has breathed new wind into the argument that the globe is not getting any warmer. Environmentalists are now pushing the counterintuitive notion that the heavy snow is further proof that global warming exists. Conservatives, meanwhile, are chilling -- confident that a northeast coated in white is the right indication that climate change is junk science.
Here's a look at the debate raging over those pretty little snowflakes: