Newsom Officially Running for Lt. Governor
SF mayor announces bid for lieutenant governor
Friday, Mar 12, 2010 | Updated 8:00 AM PDT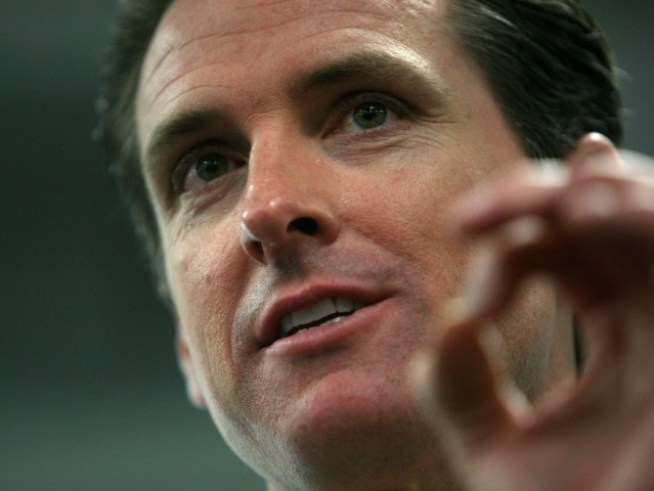 Getty Images
Mayor Gavin Newsom of San Francisco speaks at a news conference to announce a new jobs initiative August 12, 2009 at the One Stop Career Link Employment Center in San Francisco, California. The ''Jobs Now'' initiative aims to employ 1,000 San Franciscans using $25 million in federal stimulus funds. The program is designed specifically for unemployed individuals with an income of less than 200 percent of the federal poverty level and with at least one child.
After dropping out of the gubernatorial race last year, San Francisco Mayor Gavin Newsom is now running for lieutenant governor. Newsom's announcement Friday morning is not a surprise. He filed papers on Feb. 17 with the secretary of state's office, the first steps to becoming a statewide candidate again.
The 42-year-old mayor is best known for his "San Francisco politics," mainly the approval of same-sex marriages at San Francisco's City Hall in 2004. He dropped his gubernatorial campaign in October after being unable to find the same popularity throughout California that he enjoys in the famously liberal town.
He will compete against state Sen. Dean Florez and Los Angeles City Councilwoman Janice Hahn for the Democratic nomination.
Newsom has said he is intrigued by the idea of working on the state level, but that he is weighing a number of factors, including his new family.
A poll conducted earlier this year of 600 likely Democratic voters statewide showed Newsom receiving 33 percent of the vote if he ran for the office, compared to 17 percent for Hahn and 15 percent for Florez. The poll showed 35 percent of voters were undecided.
Bay City News contributed to this report.