Oakland Police Promise Not to Use Sound Cannon
Controversial crowd-dispersion device may have cost $675,000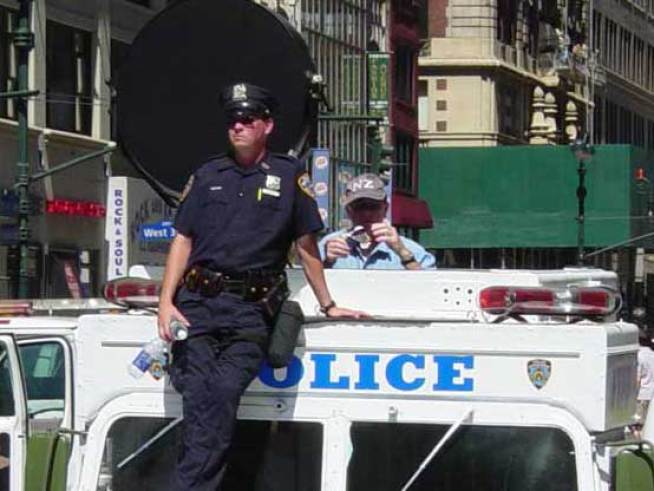 Peter Bergen
An LRAD device, the large black speaker in the top left, deployed by the New York Police Department.
The Long Range Acoustic Device recently purchased by the Oakland Police Department won't be used during any protests of the verdict in the Johannes Mehserle case, new Oakland Police Chief Anthony Batts has promised city council members.
The LRAD was originally developed for communications at sea, but has also been used to disperse crowds on land in Iraq and Afghanistan -- though the tone it produces could possibly cause long-term hearing damage.
The Canadian Civil Liberties Union recently won a court injunction against the Toronto Police Department deploying such a device during the recent G-20 protests.
City Councilwoman Jean Quan and Council President Jane Brunner, in response to a letter from concerned activists citing a purchase order for the device, contacted Batts to voice their concerns.
The Oakland Police Department has used controversial crowd-control techniques in past protests, including using motorcycle police to "herd" people during protests of the Iraq War in 2003.
It's not clear how much the cash-strapped police department paid for the device, but the company that produces the devices announced selling one to the United States Army last year for $675,000.
The city council recently voted on a new budget to lay off 80 officers from the force to help balance the city's deficit.
Jackson West feels it's indicative of the OPD's relationship to the community that they're buying military hardware.