Report: U.K. Will Pay Millions to ex-Gitmo Detainees
Monday, Nov 15, 2010 | Updated 6:45 PM PDT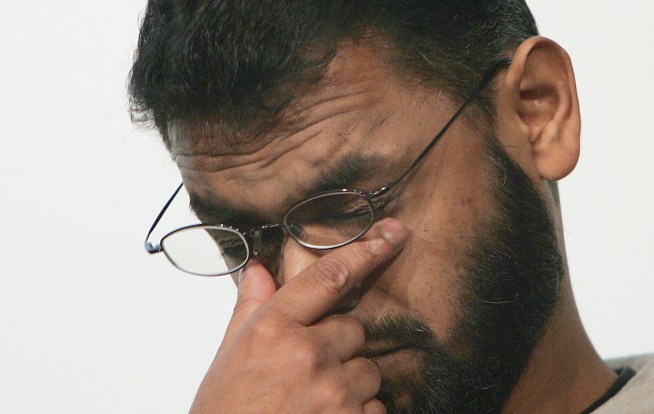 AP
Moazzam Begg reacts during the Amnesty International and Reprieve conference entitled 'The Global Struggle Against Torture: Guantanamo Bay, Bagram and beyond' in east London, Friday Nov. 18, 2005. UK National, Moazzam Begg, who was seized by Pakistan and US agents in Islamabad in early 2002 and taken to detention centres in Kandahar and Bagram before being transferred to Guantanemo Bay a year later, spoke during the conference to highlight the use of torture in the ''war on terror''.
The British government will announce a settlement on Tuesday that pays out millions of dollars to former Guantanamo Bay detainees for wrongful imprisonment and abuse, according to a U.K. media report.
The British High Court has been notified of the settlement, but the precise amounts may never be known, ITV News reported. At least one of the detainees will receive a settlement of more than a million British pounds ($1.6 million).
The news comes after months of negotiations, which began after an appeals court ruled secret government intelligence and security documents would have to be released in court hearings involving the detainees.
Five former detainees, who denied they were ever involved with terrorism, had claimed that Mi5 and Mi6 were involved in their wrongful rendition, detainment and abuse.
One allegation said the British government knew the detainees were being illegally transferred to the U.S. prison camp at Guantanamo Bay but failed to prevent it, ITV reported.
Those to receive settlements include Binyam Mohamed, Bisher Al Rawi, Jamil El Banna, Richard Belmar, Omar Deghayes, Moazzam Begg and Martin Mubanga, ITV reported.
Not all the former Guantanamo Bay prisoners set to receive money from the government are British citizens, according to ITV. Some are reportedly asylum seekers.