S&P Worried About Our Budget Gimmicks
Gov. Jerry Brown had an added piece of advice while at work today.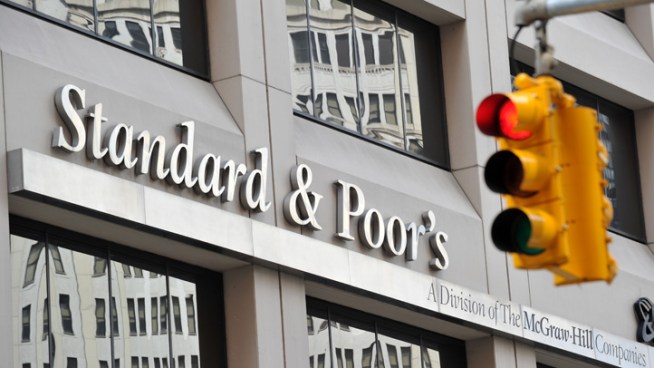 AFP/Getty Images
Standard & Poor's headquarters in the financial district of New York on August 6, 2011.
A credit rating agency on Tuesday warned that California could return to budget gimmicks this summer, in part because a court has removed an incentive for lawmakers to pass a budget that is truly balanced.
The Standard & Poor's memo cautioned that the agency could revise its positive outlook on California's debt if the Legislature fails to pass a balanced budget by its June 15 deadline. S&P cited concerns stemming from two developments last month.

First, the deficit has grown as income tax revenue in April fell nearly $2 billion below expectations. Then a Sacramento judge ruled the state controller doesn't have authority to withhold pay from lawmakers.

That ruling undermines Proposition 25, a 2010 initiative approved by voters banning lawmakers from getting paid if they fail to pass a spending plan. The initiative also lowered the legislative threshold for passing the state budget from a two-thirds vote, which requires support from both parties, to a simple majority.

S&P analyst Gabriel Petek wrote that the recent court decision ``coupled with what we see as reluctance among legislators to make additional difficult spending cuts, increases the risk of a less structurally balanced budget.''

California has an A- credit rating, the lowest of any state. It received a positive outlook after the state made progress in making deep spending cuts last year.

H.D. Palmer, the governor's finance spokesman, said the state budget gap will be larger than the $9.2 billion estimated in January. But he said the state will be looking at a variety of economic indicators to determine a new revenue forecast, such as housing permits and unemployment, as well as the anticipated public offering for Facebook.

``We're going to have a plan to put forward in the next several weeks,'' he said of the governor's upcoming budget revision.

Gov. Jerry Brown has proposed a temporary tax hike on the November ballot to fund education and public safety programs by raising income taxes on people who make more than $250,000 a year and increasing the sales tax by a quarter cent.

Democratic leaders have vowed to pass a responsible budget but are relying on the tax increase. Republicans oppose the tax hike.

``The fact remains that we still need a two-thirds vote to generate revenue,'' said Robin Swanson, a spokeswoman for the Assembly speaker's office. ``This only underscores the importance of passing the governor's initiative so that schools, public safety and other critical priorities can be adequately funded.''