San Francisco's Top Cop Lobbies for City Spies
15 years after SFPD "intelligence" unit was disbanded, new chief wants to try again.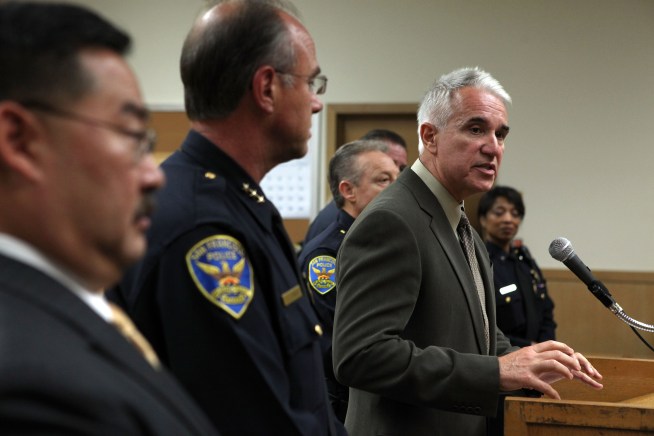 Getty Images
Only three months after taking the job, San Francisco Police Chief George Gascon is just full of new ideas, even if some are ill-advised.
Newly arrived San Francisco Police Chief George Gascon has been floating the idea of creating a new "intelligence unit" in the SFPD.
The same SFPD that has one of the lowest homicide case clearance rates of any big city in the nation, can't find enough officers to staff foot patrols in every city neighborhood, and is dealing with budget cutbacks by charging other city departments for services.
The city previously had an intelligence unit until the San Francisco Chronicle revealed that it had been spying on groups the Anti-Defamation League didn't like.
Gascon's reasoning is that the new unit would better protect San Francisco from terrorist attacks.
"We need to know what is going on under the surface of the city," Gascon told the Chronicle.
Considering the Minneapolis Police Department's St. Paul Police Department's infiltration of raids on activist groups like Food Not Bombs the "RNC Welcoming Committee" in St. Paul, Minn. during the run-up to last year's Republican National Convention, not to mention the New York Police Department's earlier infiltration of student groups in Northern California before the 2004 RNC, it's going to be a tough sell to the progressive Democrats in City Hall.
Jackson West does not think local police departments are competent or capable to do this work in a responsible way. He also has a faulty memory, and has updated this report to correct some incorrectly recalled facts.