Giants Power Past Dodgers
Giants take series with 4-3 win over L.A.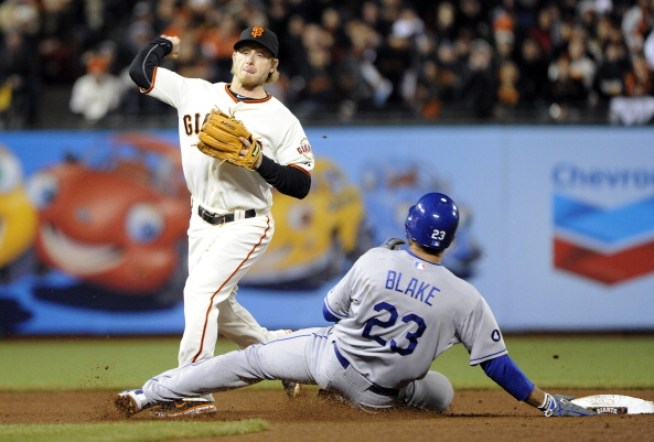 Getty Images
SAN FRANCISCO, CA - APRIL 13: Casey Blake #23 of the Los Angeles Dodgers slides into Mike Fontenot #14 of the San Francisco Giants, breaking up a double play during a MLB baseball game at AT&T Park April 13, 2011 in San Francisco, California. (Photo by Thearon W. Henderson/Getty Images)
The Giants used a pair of sixth inning home runs to propel themselves past the rival Dodgers 4-3.
Pablo Sandoval and Mike Fontenot each had solo shots in the bottom of the sixth to give the Giants a 4-3 lead after the Dodgers had themselves taken a lead of their own in the top of the inning.
Giants starter Jonathan Sanchez (1-1) picked up his first win of the season while closer Brian Wilson registered his second save.
Antioch-native and Dodgers second baseman Aaron Miles doubled in Marcus Thames to give the Dodgers a 3-2 lead in the top of the sixth.
Rod Barajas added a 2-run homer for L.A. in the fourth that tied the game.
The Giants scored the first two runs of the game in the first two innings of the contest. Aubrey Huff had a first inning sac-fly that scored Aaron Rowand, while Fontenot contributed a RBI double in the second that gave the Giants an early 2-0 lead.
The Giants have Thursday off and resume action Friday starting a 3-game series in Arizona with the Diamondbacks.