Ethiopia's Gelana Wins Women's Olympic Marathon
Ethiopia's Tiki Gelana's performance, as she came in first for the gold with an Olympic record finish of 2 hours, 23 minutes and 7 seconds. American Shalane Flanagan, the Beijing 10,000m bronze medalist, came in 10th.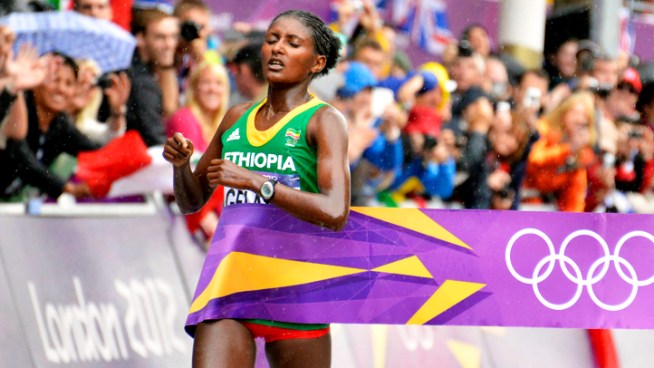 AP
Ethiopia's Tiki Gelana crosses the finish line to win gold in the women's marathon at the 2012 Summer Olympics.
Tiki Gelana of Ethiopia won the women's Olympic marathon in a race that began in heavy rain, saw the sun briefly come out and ended in another downpour.
Gelana finished in 2 hours, 23.07 seconds Sunday, holding off Priscah Jeptoo of Kenya by five seconds. Tatyana Petrova Arkhipova of Russia captured the bronze.
There were four runners in a bunched pack over the last three miles. But with the finish line ahead, Gelana made her move, grimacing as she surged to the front. With the rain falling, she kept glancing over her shoulder to see if Jeptoo was gaining ground.
Gelana coasted in and raised her hands as she crossed the line, soaking in the moment.
Shalane Flanagan was the top U.S. finisher in 10th place with a 2 hours, 26 minutes and 7 seconds finish.