Newly Signed Clark Haggans at 49ers Practice
The veteran outside linebacker, signed by the 49ers on Monday, will learn soon if he'll be available to play in Sunday's season opener against the Green Bay Packers.
Tuesday, Sep 4, 2012 | Updated 4:06 PM PDT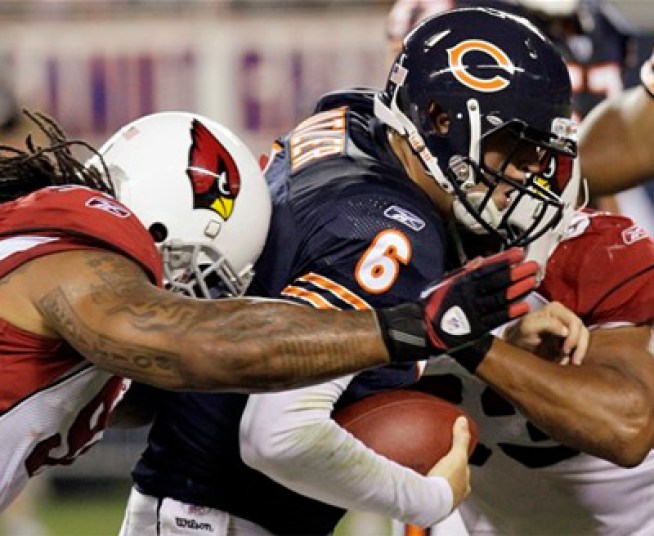 AP
Jay Cutler is sacked by Arizona Cardinals defensive tackle Darnell Dockett, left, and linebacker Clark Haggans, right, during the first half of an NFL preseason football game.
Clark Haggans joined the San Francisco 49ers at practice Tuesday pledging to hit the ground running with a team that fits the rugged style he has established throughout a 13-year NFL career.

Haggans faces discipline by the league after serving jail time in June after pleading guilty to DUI charges stemming from an April 2011 incident. His hearing before the NFL is scheduled Wednesday.
The 49ers certainly could use the services of the veteran with 46.5 career sacks when they face the Packers and a prolific passing attack led by quarterback Aaron Rodgers.

Haggans is the only backup on the roster behind starting outside linebackers Ahmad Brooks and Aldon Smith after San Francisco placed 2011 starter Parys Haralson on injured reserve Monday with a torn left triceps.

"Veteran player we needed at that position and needed him right away,'' 49ers coach Jim Harbaugh said Tuesday. ``Pretty deep into our playbook already. He started at page 25 when he first got here. I think he'll assimilate very quickly and that's one of the reasons we were so excited to get him.''

Haggans has played throughout his career in a 3-4 defensive system that's similar to what San Francisco runs. He started 57 games on the edge for the Pittsburgh Steelers from 2004-2007 before moving on to Arizona, where he started 43 games the past three seasons. Haggans started all 16 games for the Cardinals last year, recording 46 tackles and three sacks.

After the Cardinals released Haggans on Friday at the final roster cutdown, the 49ers were quick to come calling.

Haralson, who started 68 games over the past five seasons for the 49ers, was injured in San Francisco's Aug. 26 exhibition at Denver and underwent surgery last week. The Niners then released four young outside linebackers Friday to reach the 53-man final roster limit, leaving them with starters Brooks and Smith as their only two healthy players at the position.

Haggans saw San Francisco's defense evolve into one of the NFL's best while playing the 49ers twice each season over the past four years. Now he's eager to get involved.

"All the success that they had last year was obviously earned and I'm happy to be a part of it,'' Haggans said. ``They're a physical team, blue-collar, work hard. That's like me _ in and out of the weight room, running after practice, film study and just trying to play football with effort.''

At 35, Haggans said he still can produce at a high level and is willing to accept whatever role the team has for him.

That role could become significant with Haralson gone and Smith in his first season as a starter after setting a 49ers rookie record with 14 sacks last season. San Francisco's defensive scheme places a high priority on getting pressure on passing downs from its edge linebackers, and Haggans has produced five or more sacks in a season six times during his career.

"I've been in a 3-4 defense for a long time, so a lot of the techniques are the same and it's just getting used to the terminology,'' Haggans said. "I'm just going to dive into the playbook, trying to be as spongy as possible and absorb as much as I can and take it from there.''

His next move is waiting to hear from the NFL regarding a possible suspension that could keep Haggans on the sidelines for the start of the season.

"I have my cellphone on and I made sure I paid my bill so it's working,'' he said. "I'm on a need-to-know basis to see what's going to transpire for the next hours to days up to the end of the month or so. So when I get the news, either way I have to be ready for it.''