Raiders Beat Chiefs in Season Finale
At least they ended on a high note.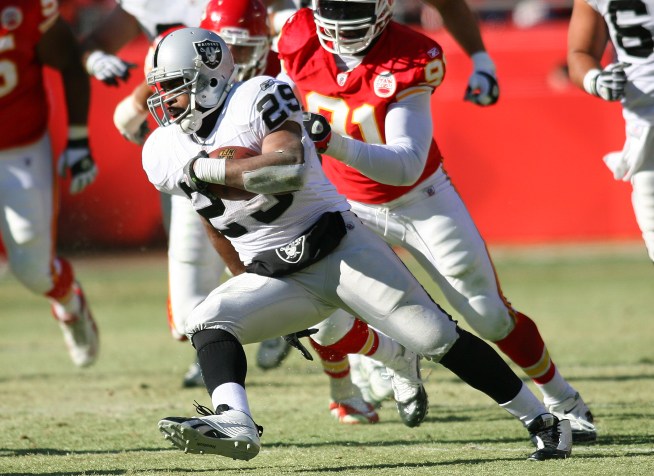 Getty Images
KANSAS CITY, MO - JANUARY 02: Running back Michael Bush #29 of the Oakland Raiders runs down field in a game against the Kansas City Chiefs at Arrowhead Stadium on January 2, 2011 in Kansas City, Missouri. (Photo by Tim Umphrey/Getty Images)
The Oakland Raiders beat the Kansas City Chiefs at Arrowhead Stadium Sunday to close out the season with a 31-10 win. They end the season 8-8.
The Chiefs quarterback Matt Cassel kept finding Raiders to throw to instead of members of his own team. That made for a bevvy of turnovers in the second half and an easy win for the silver and black.
The Raiders close the season on a high note with the win, but it wasn't nearly enough to make up for a dismal year on the gridiron. The win gives them a unique stat. Oakland finished 6-0 in the AFC West and that makes them the first team to go unbeaten in the division and not make the playoffs.
Al Davis only has a couple weeks to decide whether to keep coach Tom Cable for another year. He helped end the season strong, which appears to be giving Cable the momentum he will need to keep his job. Cable now has an overall record of 17-27. He also helped get three players into the Pro Bowl.
Before the game Cable told AP, "I think that people are recognizing that we're better. I think that people recognize that we're a more talented team," he said. "Obviously, that shows that guys went out and performed at a pretty high level. Would like to see more, but that will happen. As you start to win more and you become a playoff team, those kinds of things will happen more and more. I'm proud of all of them, but I just think it says, 'Hey, we're better and we have guys playing better."'
The Raiders also went into Arrowhead down several key players. Running back Darren McFadden and defensive tackle Richard Seymour were both inactive. McFadden has turf roe and Seymour is nursing a hamstring injury. Also out were Johnnie Lee Higgins, Walter McFadden, Jeremy Ware, Daniel Loper and Bruce Campbell.
The Raiders will fly home Sunday night with no more games to play. The 10-6 Chiefs host a playoff game in KC next weekend.